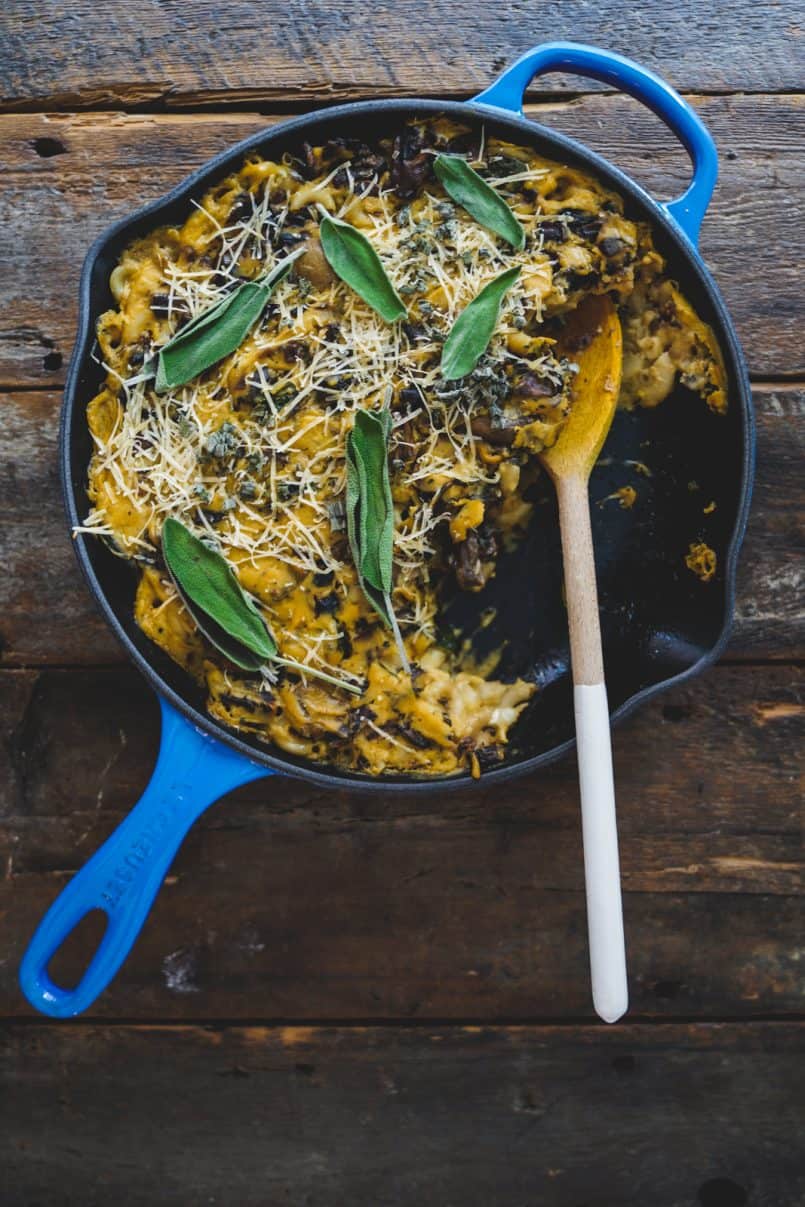 04 Oct

Creamy and Fragrant Pumpkin and Sage Vegan Bechamel

The leaves are changing, fall is officially upon us, and so is family dinner season. If you're anything like me, as soon as that Thanksgiving dinner invite hits your inbox you are immediately thinking about what you should bring to wow your friends and family. Something beautiful and interesting or something a little more hearty and classic? And of course, how am I going to make it vegan? This vegan béchamel is the perfect marriage of both worlds – aromatic, creamy and timeless, yet unique and best of all…plant-based!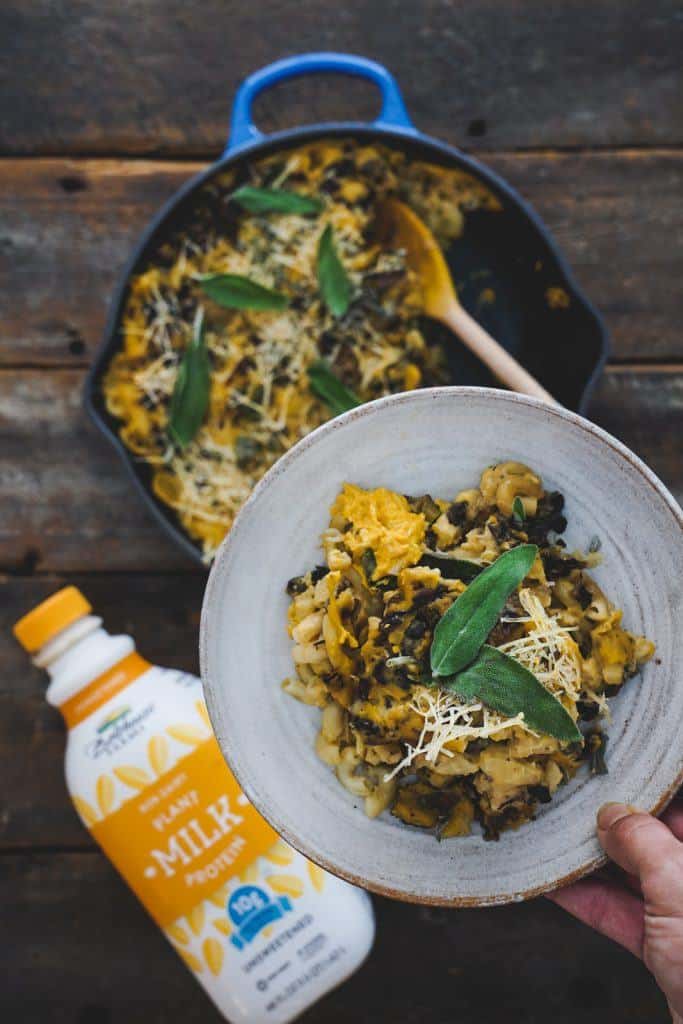 Depending on your circle, you may be the only plant-based eater at the table, so you're going to need to blow their minds and also bring something hearty enough that you can eat in the event that vegan options are limited.
VEGAN MILK, LET'S TALK ABOUT IT
rich and creamy, but it is also boasts 10g of protein per cup! This amazing and versatile vegan milk is made
from non-GMO pea protein and contains 50% more calcium than traditional dairy milk – take that vegan
skeptics! I cannot express this enough – using the right milk for your béchamel is so important! Almond,
rice or soy milk simply won't cut it. I chose the Bolthouse Farms Unsweetended Plant Protein Milk
specifically for this recipe because of the quality, flavour and nutritional benefits.
Bolthouse Farms Unsweetened Plant Protein Milk has 50% more calcium than dairy milk and 10g of protein per cup!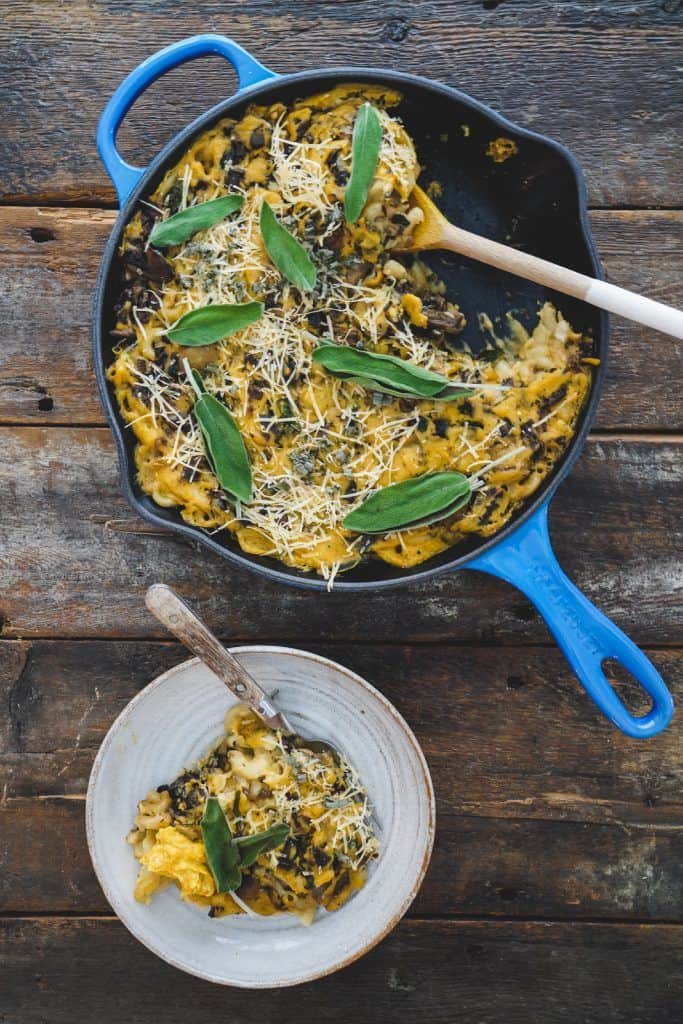 THE PERFECT VEGAN BÉCHAMEL
I know what you're thinking: "Maria, isn't French cuisine hard to make?" But that's why I'm here to walk you through this! I
kept the ingredients quite simple because you don't need much to make an amazing béchamel. A modern
French béchamel is usually a base of milk, butter, flour and seasoning – but we're going to kick that up a
notch and keep it as guilt-free as possible. My béchamel includes pumpkin in honour of the fall season
but also because pumpkin is so good for you! Pumpkin is an amazing heart-happy vegan food and contains:
Fibre
Potassium
Vitamin C
… to name just a few!
What's my secret to perfecting béchamel? You have to whisk the entire time to avoid burning and clumps – there is
nothing worse than a chunky béchamel! Keep the heat low and cook for longer than you'd think, the flour
needs time to cook out and mellow. The second and final secret is to season the absolute living hell out of
that thing. Taste and season as you go to avoid under or over seasoning. You want your béchamel to be flavourful
enough that you would eat it by the spoonful!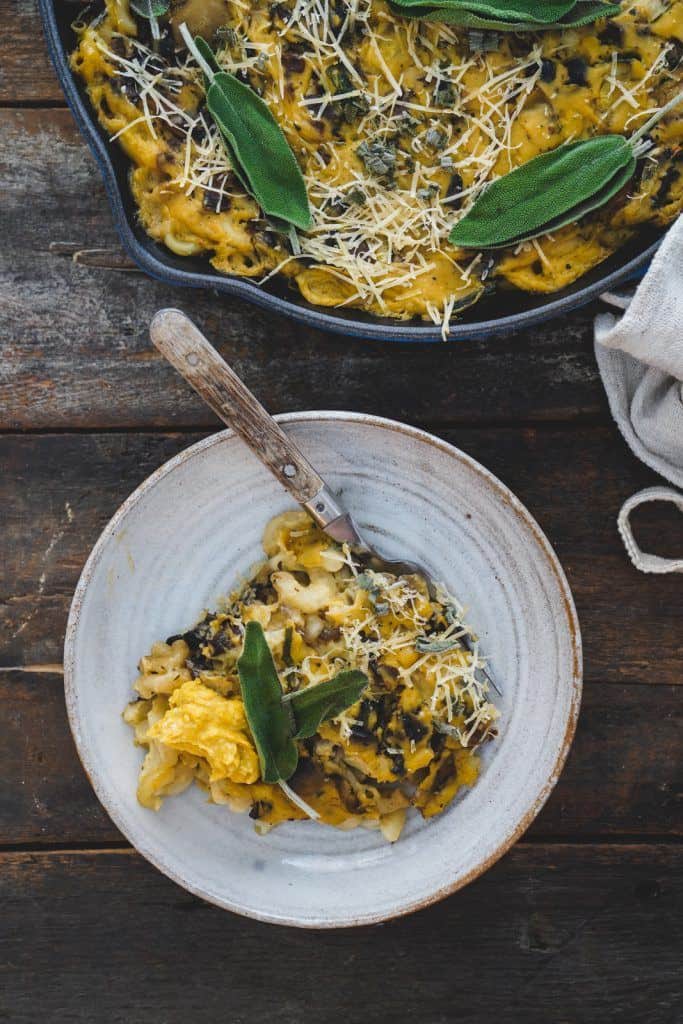 In this recipe, I have done a mushroom, ground round and vegetable layer that is fragrant and will totally
have you reminiscing about your childhood Thanksgiving dinners at your grandma's house. I topped this
dish off with a helping of vegan cheese, use whatever you have on hand but vegan parmesan shreds
would be best! Don't be afraid to go a little overboard on the cheese – in my opinion, you can really never
add too much! This is a feel-good dish so have some fun with it!
This dish is bound to turn any vegan skeptics into believers and will definitely be a crowd pleaser! I'd
love to hear your thoughts on this recipe and see any pictures of your finished product. Comment below
with your experiences or tag me on social media. And if you're looking for a dessert recipe, or something else to bring along
I've listed a couple of my favourites below:
See the recipe card below for how to make this creamy and fragrant pumpkin and sage vegan bechamel. Enjoy!
Print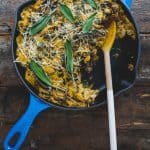 Creamy and Fragrant Pumpkin and Sage Vegan Bechamel
Author:

Prep Time:

15 minutes

Cook Time:

1 hour

Total Time:

1 hour 15 minutes

Yield:

4

Category:

Main

Cuisine:

Vegan
---
Ingredients
4 cups cooked elbow pasta
For the thanksgiving mushroom + ground round:
1 tbsp olive oil
1 sweet onion, finely chopped
2-3 cloves of garlic, finely chopped
1 tsp. thyme
1/2 tsp. sage
season to taste
1 tbsp. soy sauce
1 tbsp. miso paste – optional
170g veggie ground round (half a pack)
4 cups of portobello mushroom, finely chopped
dash of lemon
For the Creamy Bechamel:
4 tbsp. olive oil
3 tbsp. all purpose flour
3 tbsp. pureed pumpkin
1 garlic clove
1 tsp. sage
1 tsp. thyme
touch of fresh nutmeg
season to taste
1/2 cup vegan parmesan cheese
---
Instructions
Prepare your pasta, strain and set aside.
Preheat your oven to 400F.
For the fragrant thanksgiving mushroom ground round sauce.  Add your oil to a medium heated pan and cook your onion for around 5 minutes or until translucent.  Add your garlic and cook for another 2 or so minutes. Add your thyme, sage, and seasoning. Taste.  Then add your soy sauce, miso and your ground round (if you don't have this then use a cup of lentils).  Stir and coat everything with seasoning.  Add your mushrooms and lemon and reduce heat to low.  Pop on a lid and cook for around 20 minutes or until everything is nice and soft and not chewy (yes, mushrooms, I am talking to you).  Set aside.
For the white sauce, add the oil to a pot on the stove and heat it at medium to high heat. As the oil heats, sift the flour and add to the pan stirring vigorously, don't stop. Keep stirring and let it cook for a bit.  Don't let it burn and if it sticks to the pan then turn down the heat.  Begin adding the milk, cup by cup, and stir using a whisk.  Your head should be on medium-low and continue to add milk as it gradually thickens. Add milk till you get to the right thickness (you will probably notice bubbles developing).
Once you've reach your desired thickness, remove from heat and stir in your pumpkin, garlic thyme, sage, nutmeg and seasoning.  Make sure you season it enough you could enjoy it on it's own!
To assemble. Grab your favourite skillet.  I used a 23cm one! Add a layer of bechamel (around a ladle), then some pasta (1/2 of it), then some ground sauce (1/2 of it) , then some bechamel (1/2 of what's left), then some pasta (2/2 of it), then some sauce (2/2 of it) and then some bechamel (2/2 of it) and top with some parmesan cheese!
Bake in the oven, covered with foil for 25 minutes then uncovered for around 5! If you really want to amp things up then cook it on broil!
Serve hot with fresh sage and more cheese!
---
Notes
Leftover dish lasts in the fridge, in a tight sealed container for up to one week.
Leftover sauce lasts in the fridge, in a tight sealed container for up to 4-5 days.
Leftover white sauce lasts in fridge, in a tight sealed container for up to 2 days.
PIN THE BELOW IMAGE TO SAVE THIS RECIPE FOR LATER!
Disclaimer: This post was sponsored by Bolthouse Farms.