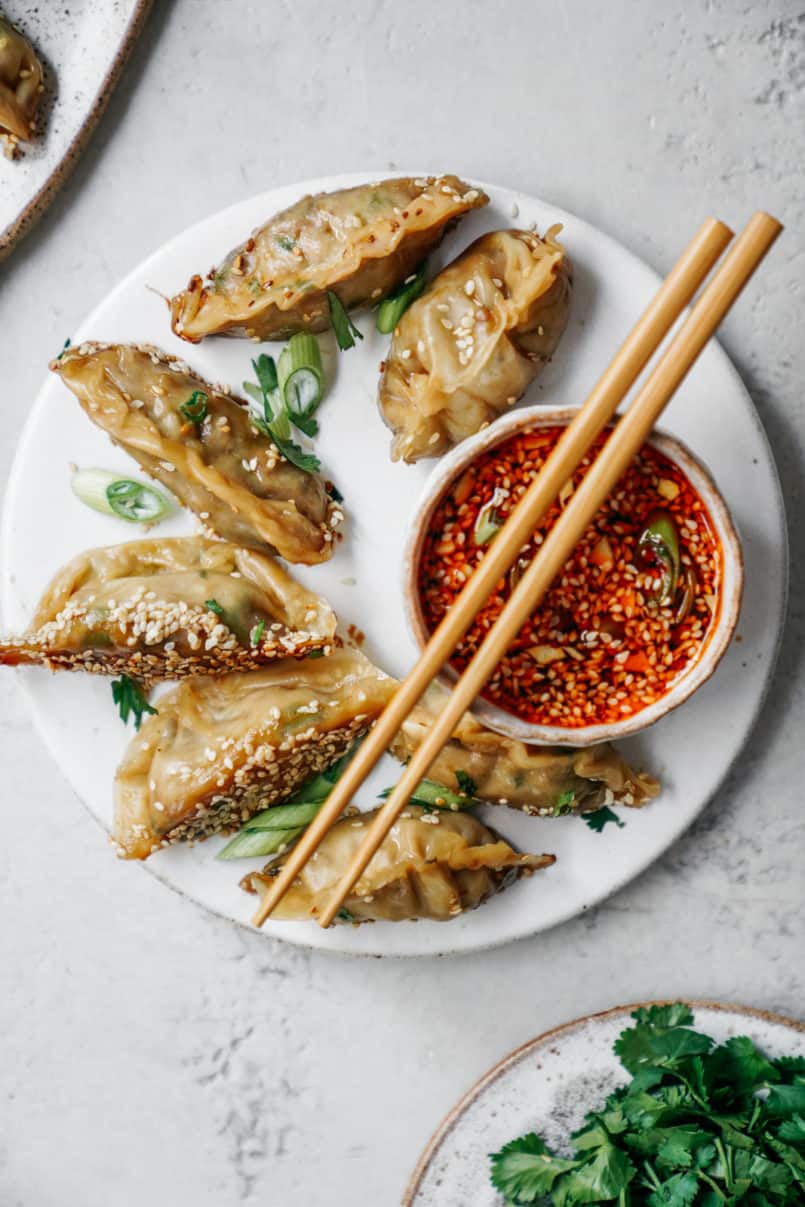 23 Feb

Vegan Potstickers with Sesame Chilli Dipping Sauce

The wait is over!! Here is the much anticipated Vegan Potsticker recipe for all of you wonderful people. Let me start by telling you how simple these are to make. To be honest I was nervous at first about testing this recipe as I assumed a vegan potsticker would be complex and hard to assemble. I am so happy to report, anyone can make these, and they are totally customizable.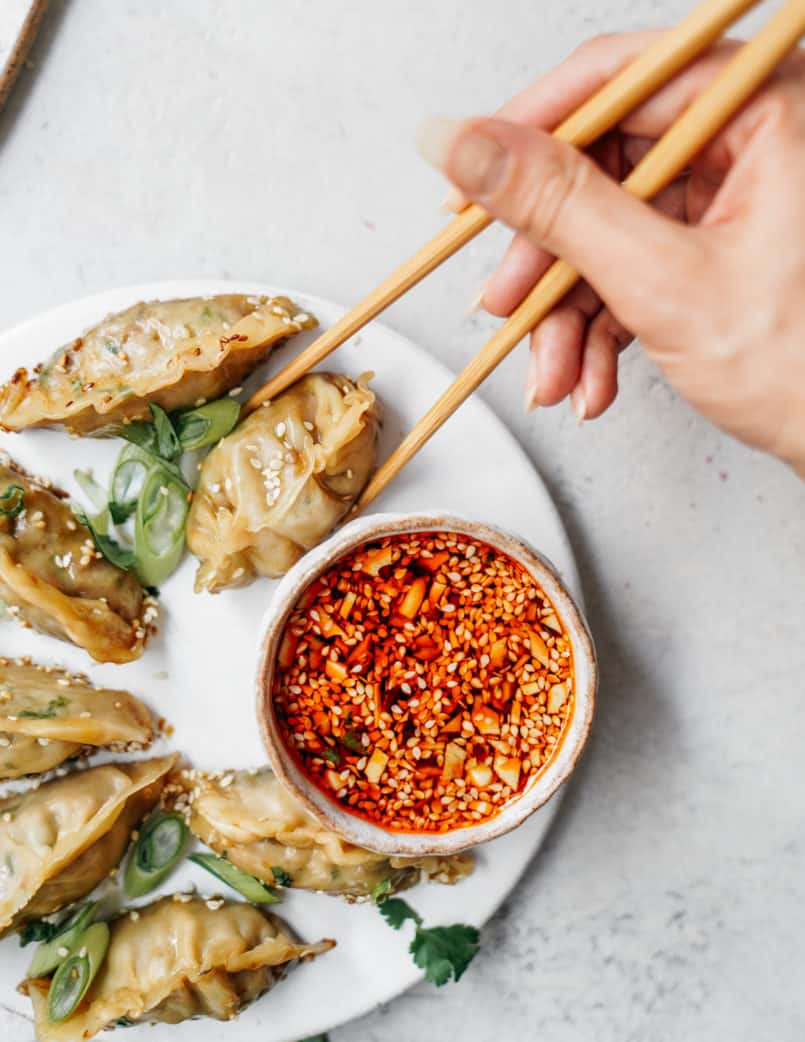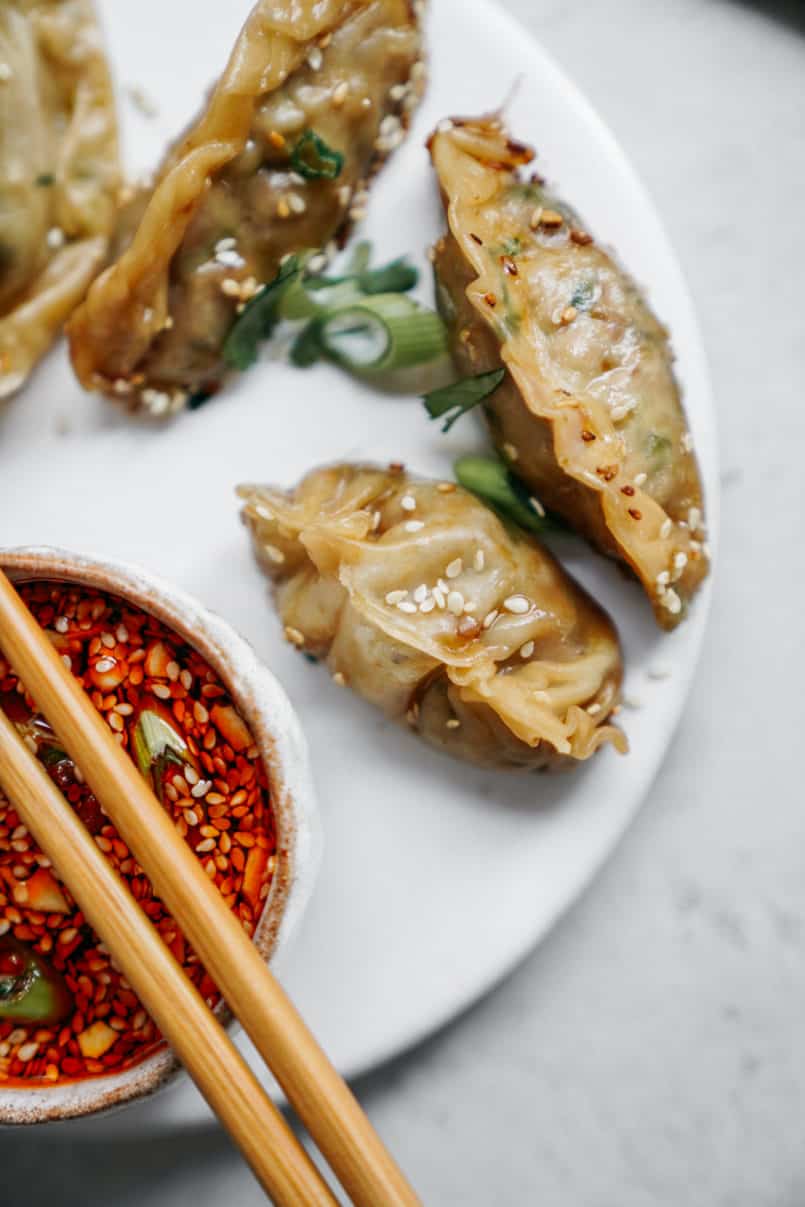 Potsticker, Gyoza, Dumpling; What's the Difference?
You've probably seen one of these three names in cookbooks and on menus. After a bit of research, it turns out that potstickers originated in China, Gyoza in Japan, and dumplings just refer to anything cooked in dough. If you have a better explanation please let me know. I'm calling these guys potstickers because when you cook them in a pan they "stick" to the bottom and get crispy while steaming. At the end of the day, call them what you want, they are so delicious it won't matter.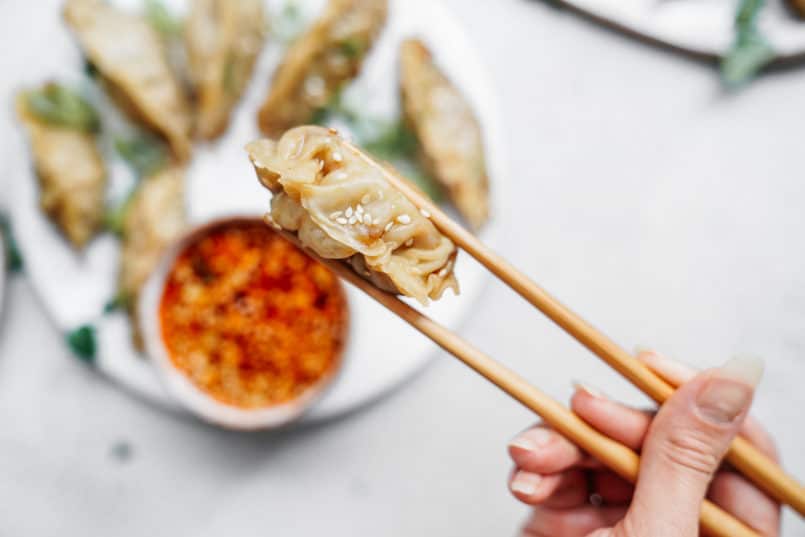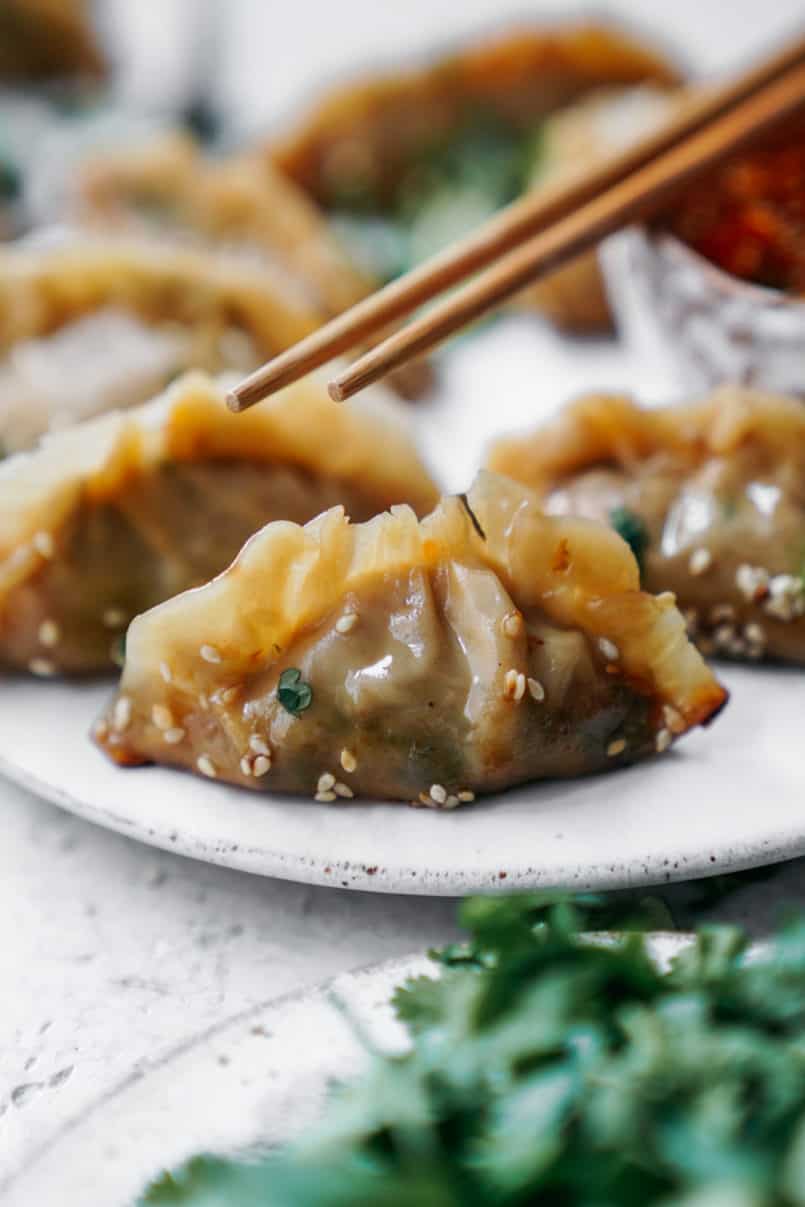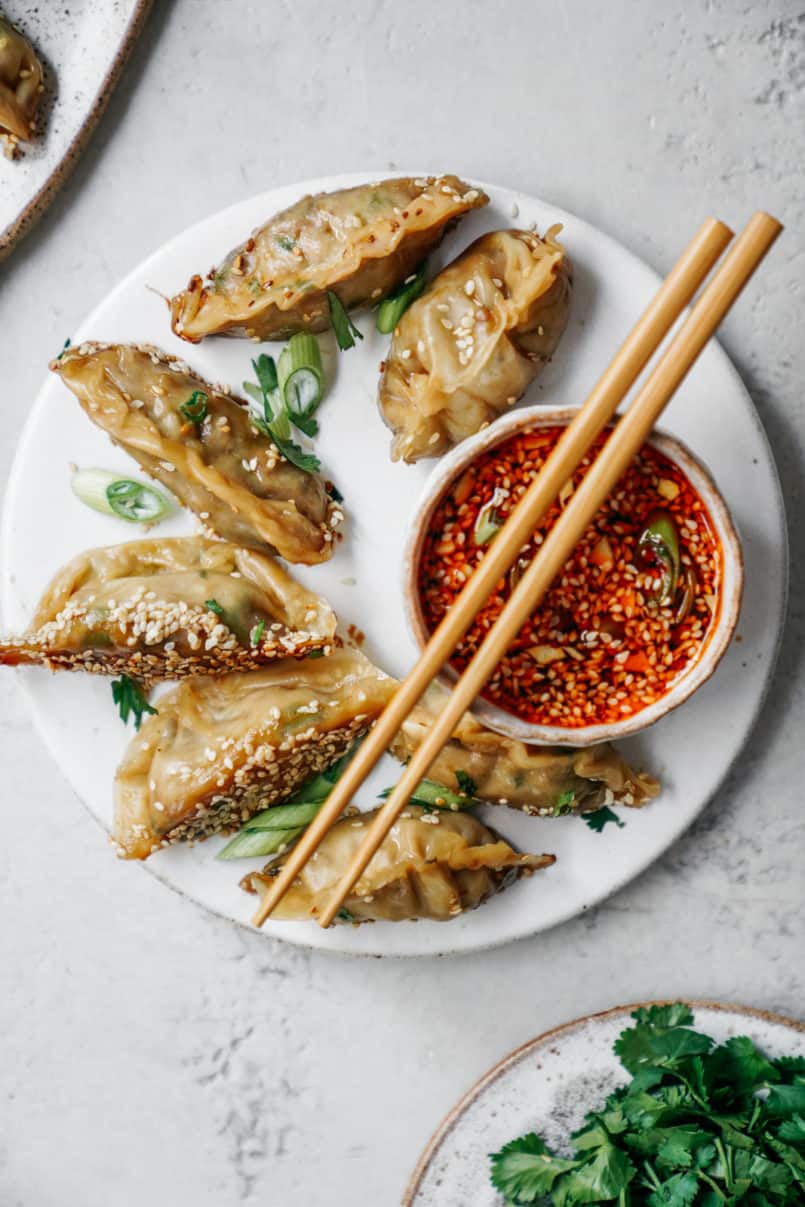 Party Food
These vegan potstickers are not only easy to assemble they are actually super fun to make as well. The filling is totally customizable as long as you stick to the same ratios. You could get really creative and try an Italian inspired filling or mix up the dipping sauces. They make great finger food and look beautiful on a platter. Another serving option is to actually leave the noodles out of the filling and add both the noodles and potsticker to a soup. Don't be afraid to experiment with these little doughy pillows, I promise you can't mess them up!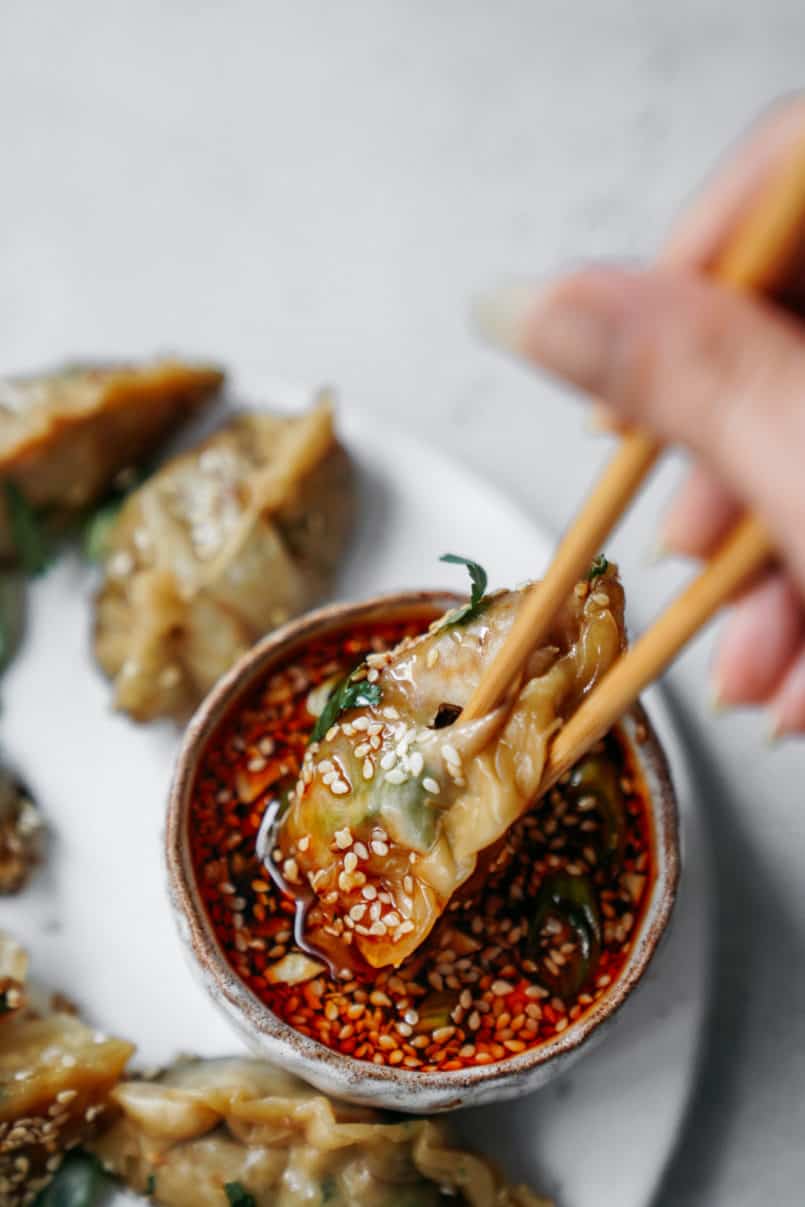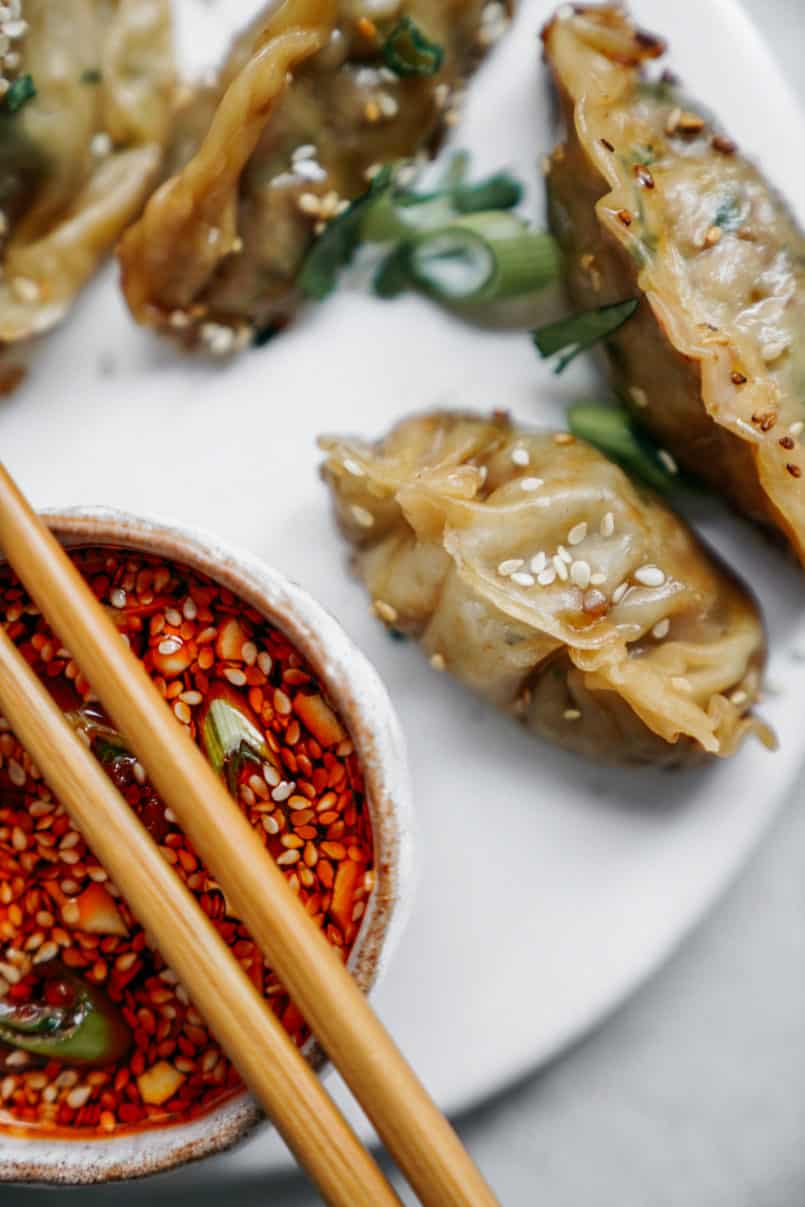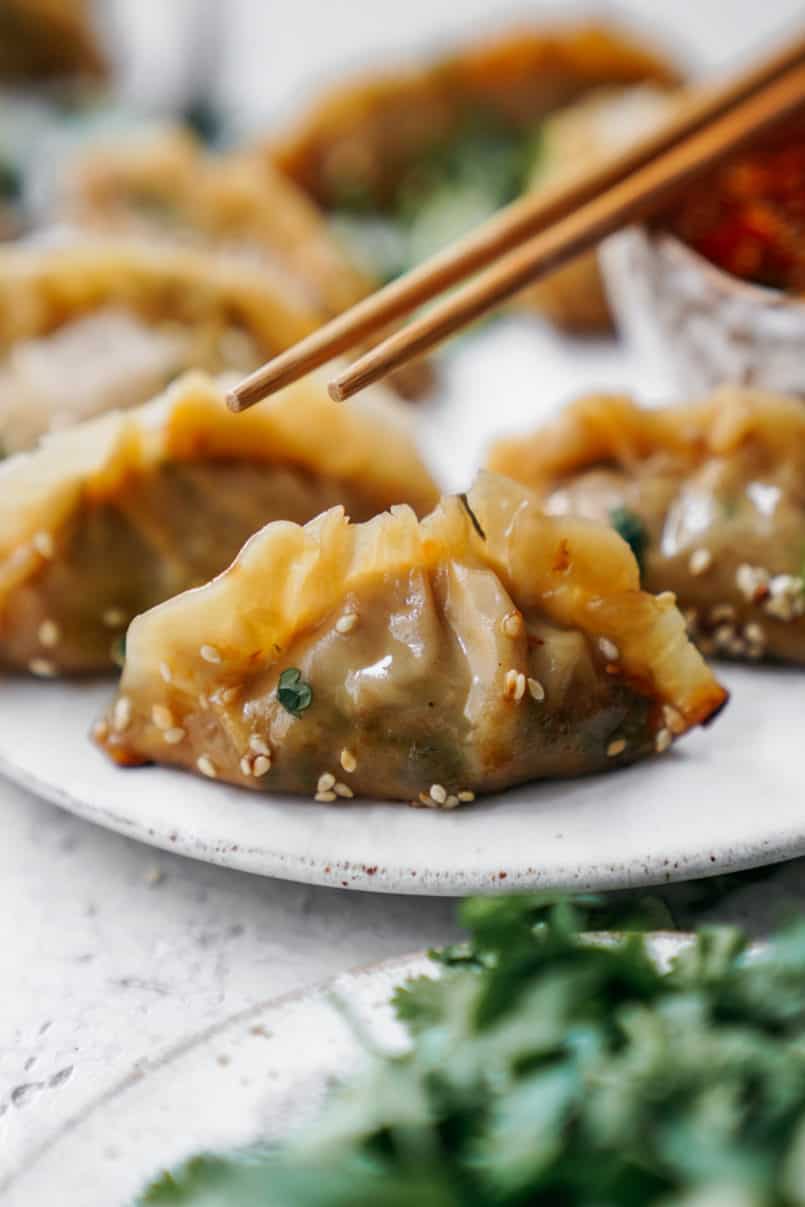 It's All In The Pinch
When I made these the first time I must admit they didn't look very pretty. Lets just say my folding technique wasn't up to spec just yet. With a little practice and a few video tutorials, my vegan potstickers were photo ready by the end. Some people fold theirs, others pinch, whatever look you go for here or a few tips I learned along the way:
use water as your glue
start in the middle and work your way to the edges
don't overfill your potsticker
remember it's what's on the inside that counts *wink wink*
For a quick video on different ways to fold your potstickers check out Simple Healthyish Recipe's video here.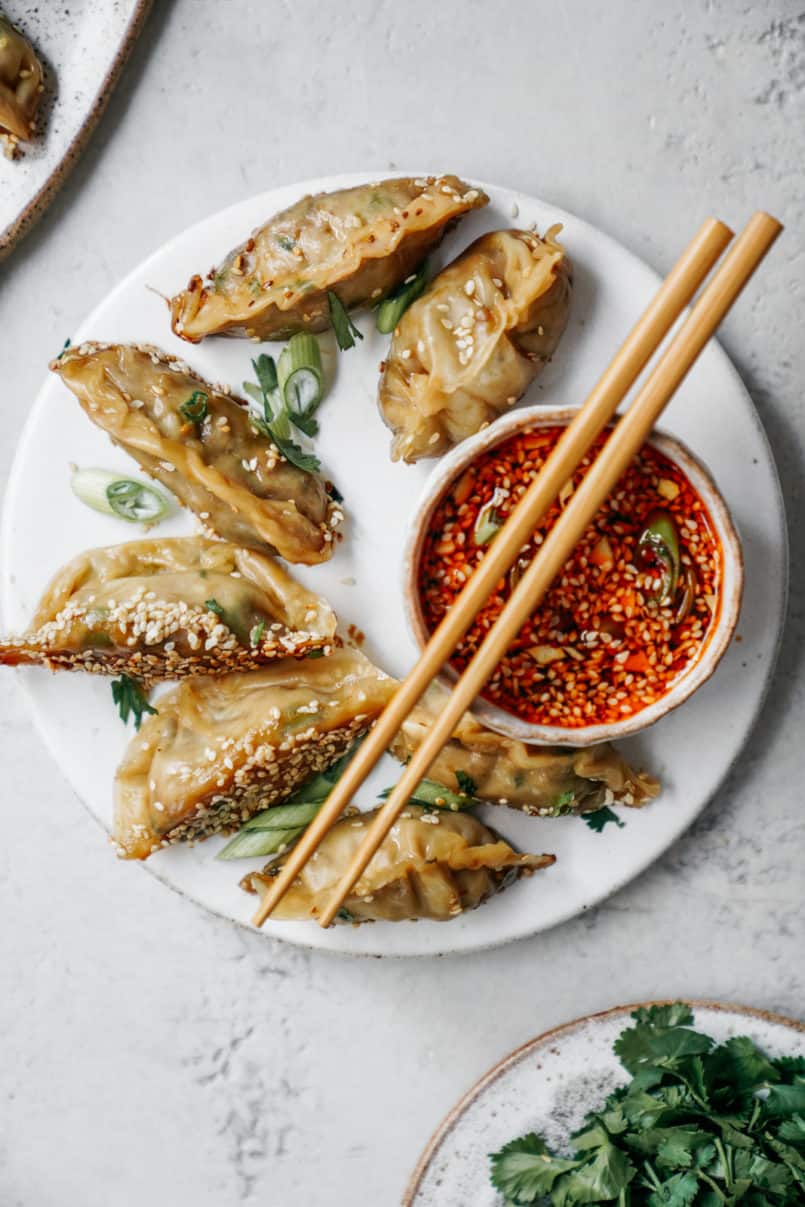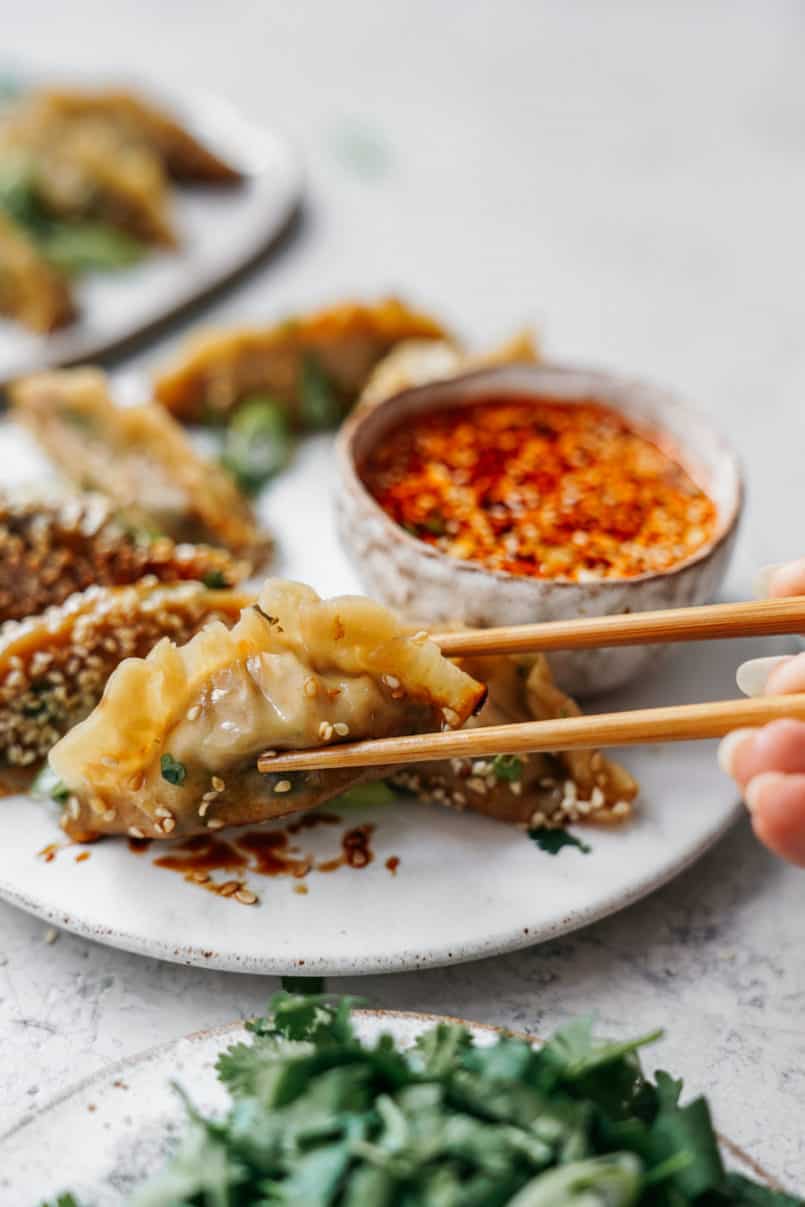 So what are you waiting for! Call up your besties and make a potsticker assembly line. Or have a dumpling folding contest to see who has the best origami skills. For more Asian inspired dishes be sure to check out some of these recipes:
Check out the recipe below and don't forget to let me know what you think over at @foodbymaria and below in the comments! Tag #foodbymaria and #fearnotfoodisyourfriend so I can see all your beautiful recreations.
Print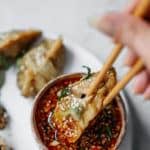 Vegan Pot Stickers
Prep Time:

45 minutes

Cook Time:

5-10

Total Time:

1 hour

Yield:

22

Category:

Mains

Cuisine:

Vegan
---
Ingredients
2 tbsp. sesame oil
4 cloves garlic, very finely minced
2 inch bulb of ginger, very finely minced
2 cups shiitake mushroom
1 cup grated carrot
1 cup finely chopped green cabbage
2 tbsp. sesame seeds
2-3 tbsp. soy liquid seasoning
2 tbsp. maple syrup
1 tbsp. chili paste
1/4 cup green onion
handful of fresh cilantro
45g uncooked vermicelli noodles
1 package vegan wonton wraps (local asian market brand)
1 cup of water
sesame oil for cooking
For the Sauce:
1/4 cup soy liquid seasoning
3 tbsp. maple syrup
2 tbsp. rice wine vinegar
1 heaped tbsp. chili paste
1 tsp. sesame chili oil
1 tsp. sesame seeds
handful chopped green onion or chive
---
Instructions
1. In a large pan heat your sesame oil on medium heat. Add your onions and garlic and sauté, while stirring frequently to infuse your oil.  After about 1-2 minutes add your ginger, mushroom, cabbage and carrots. Cook for around 5 minutes or until your vegetable have cooked down, this might almost be by half!  To the mixture add the sesame seeds, liquid soy seasoning, maple syrup and chili paste and cook another 2-3 minutes or until there is no liquid in the pan. Remove from the heat and let cool.
2.Boil a small pot of water and cook your vermicelli noodles. Follow the instructions on the packet and once cooked add to the vegetable mixture and stir till well combined.
3. To put these babies together, spoon 1 heaped tablespoon of filling onto each wonton wrapper. Brush water (could also use your fingers) around the edge of the wrapper. Fold the dough over the filling to create a half moon shape, pinching the edges inward to seal – see video reference above. Repeat till you've used up all the filling! Optional, oil the base of your potstickers and dunk in sesame seeds for that added crunch.
4. To cook, heat a large cast iron skillet or pan with oil on medium-high heat . Once hot, add the potstickers and cook for around 2-3 minutes or until golden brown. Pour 1/4 cup of water and 1 tbsp soy seasoning into the pan and cover with a lid.  Turn heat to medium and let the dumplings steam for 3 minutes. Serve immediately with sauce.
5. For the sauce, simply add your ingredients into a bowl and stir till combined!