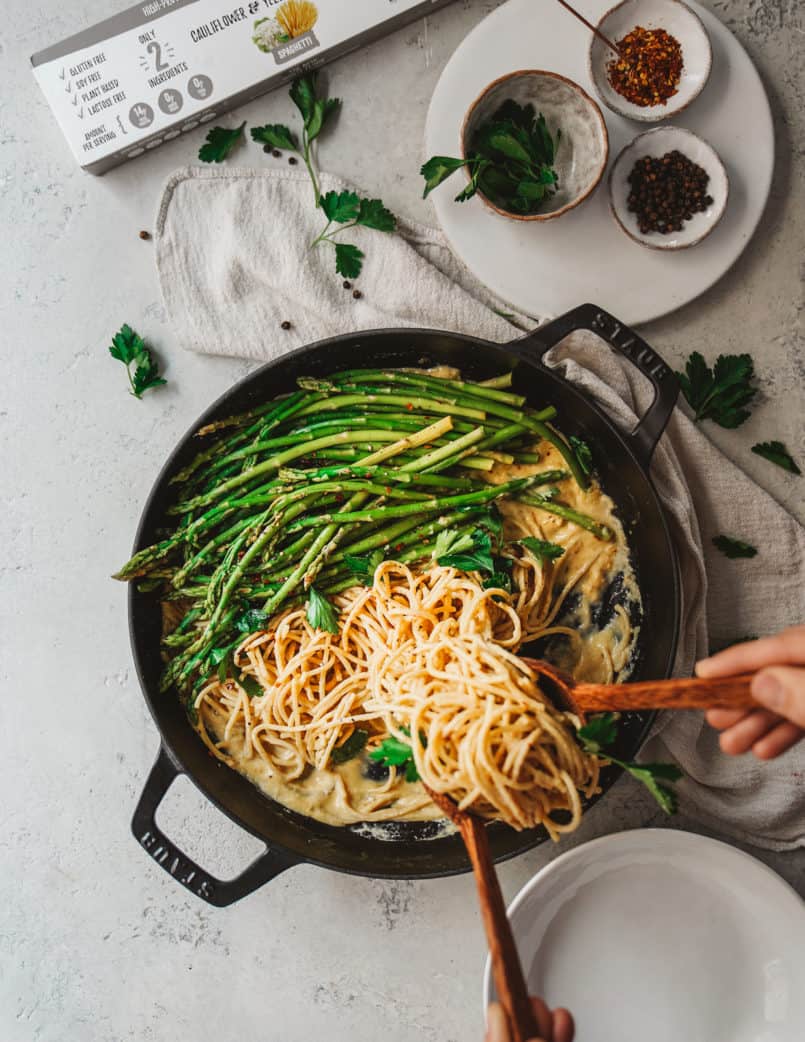 27 Feb

The Best Garlic + Onion White Wine Pasta Sauce

Hi, my name is Maria and I'm addicted to pasta. I could eat pasta everyday and if I'm being honest some weeks I get pretty close. Don't get me wrong, I'll eat a few heads of kale for lunch, but when my body wants carbs glorious carbs, I go for it. So if you're ready to go for it, this garlic and onion white wine sauce is the best thing since sliced bread.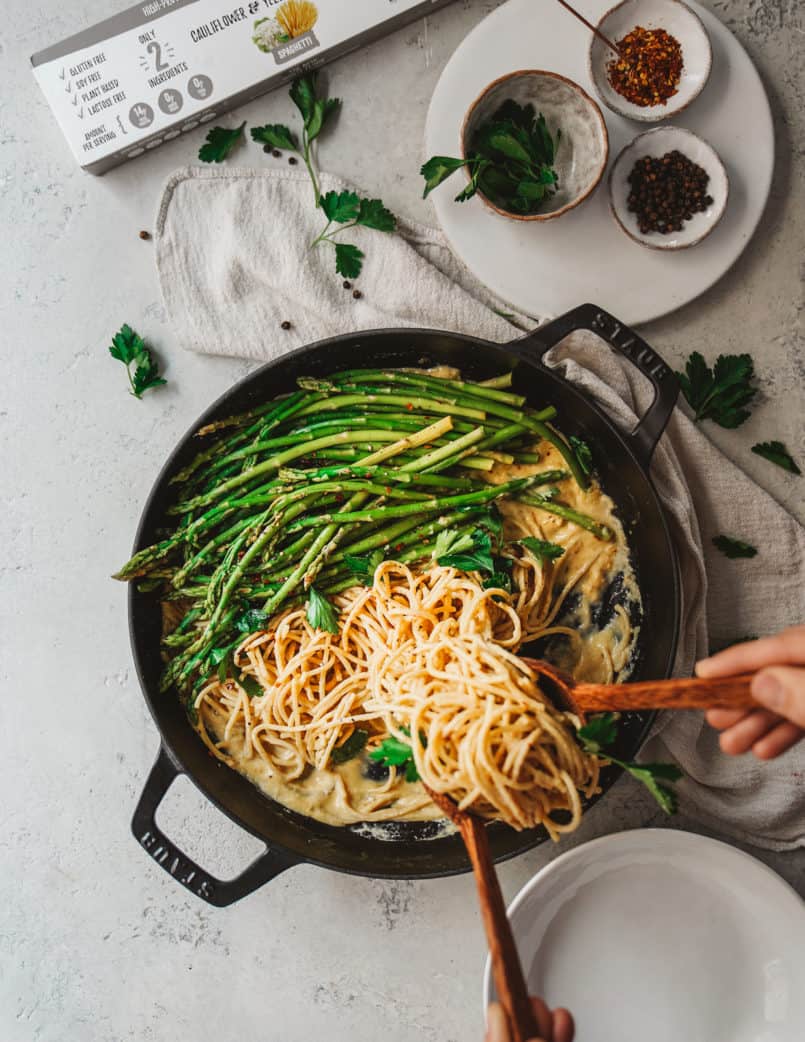 Gluten Free
"Gluten Free" has become a bit of a buzz word, along with sugar free and dairy free. Unfortunately some brands have jumped on the bandwagon only to offer products free of one thing but full of everything else which is not good for you. When reading labels friends, please don't be blinded by fancy packaging and always read the ingredients! For this recipe I used Cali'flour Foods pasta and get ready for it, there are only TWO ingredients:
Cauliflower
Lentils
You read that right! This pasta is not only good for you because it's full of protein and nutrients, but actual tastes like pasta is supposed to taste. Now you can get all your carby craving fix and feel good about it too (as you always should).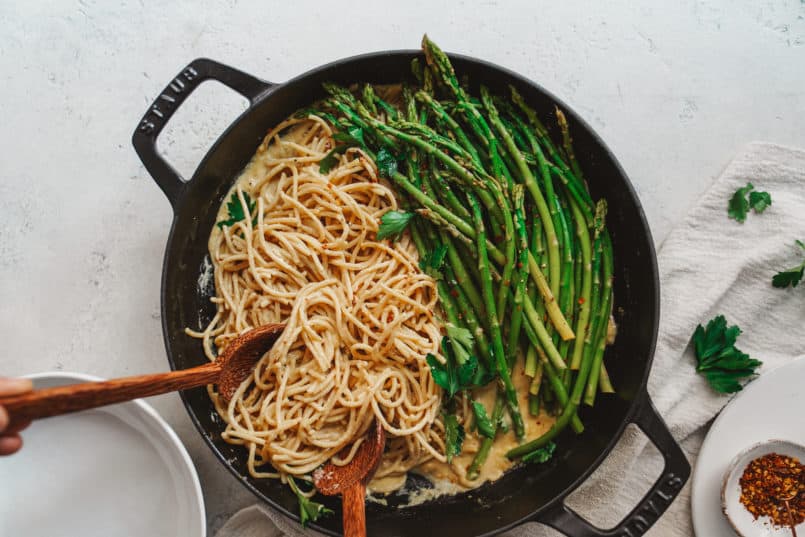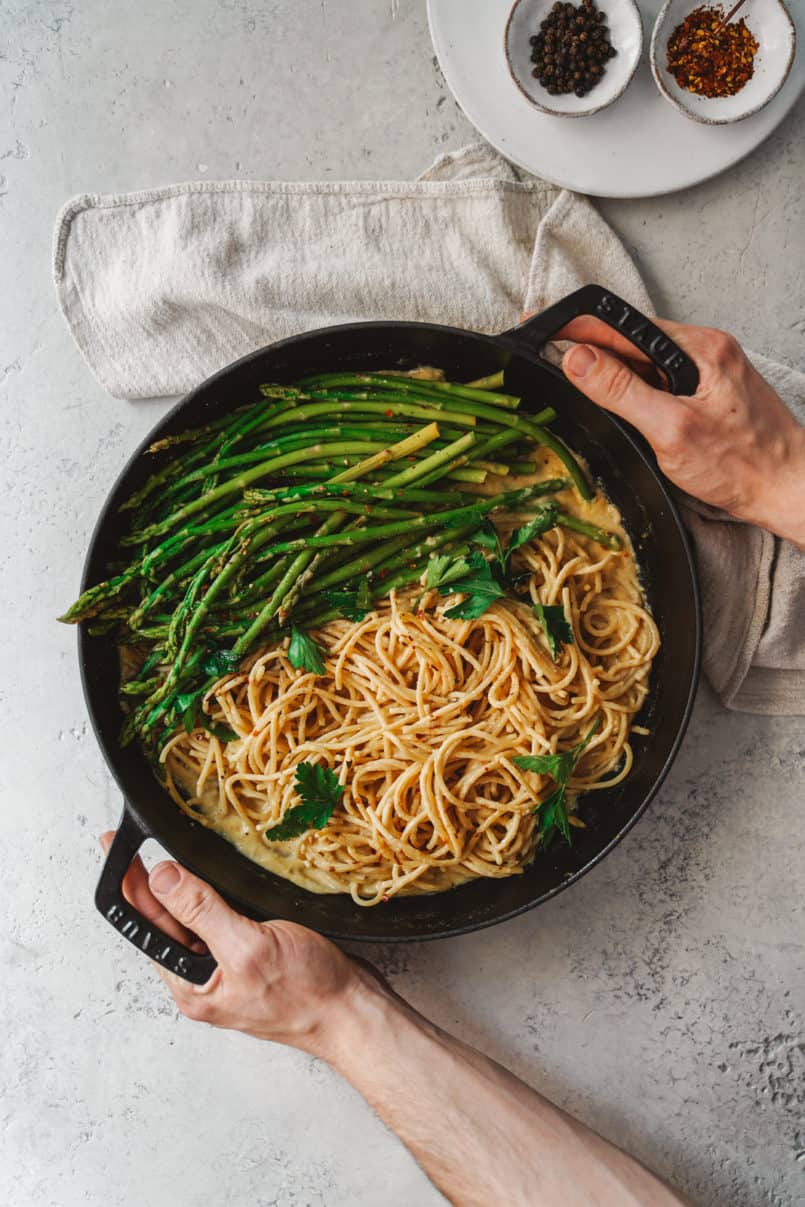 Powerhouse Pulse
Did you know Canada supplies a lot of the world with pulse? Lentils make up a big portion of that and they are a super easy and an inexpensive way to get a wide range of nutrients. They are packed with vitamin B, magnesium, zinc, and potassium and are actually made up of 25% protein. They are also high in folate and iron, which is great news for anyone who eats a mostly plant based diet. So you can enjoy this pasta dish guilt free knowing you are getting:
Vitamin B6: 18% of the RDI
Folate: 90% of the RDI
Iron: 37% of the RDI
Magnesium: 18% of the RDI
Phosphorous: 36% of the RDI
Potassium: 21% of the RDI
Zinc: 17% of the RDI
Copper: 25% of the RDI
Manganese: 49% of the RDI
Source: Healthline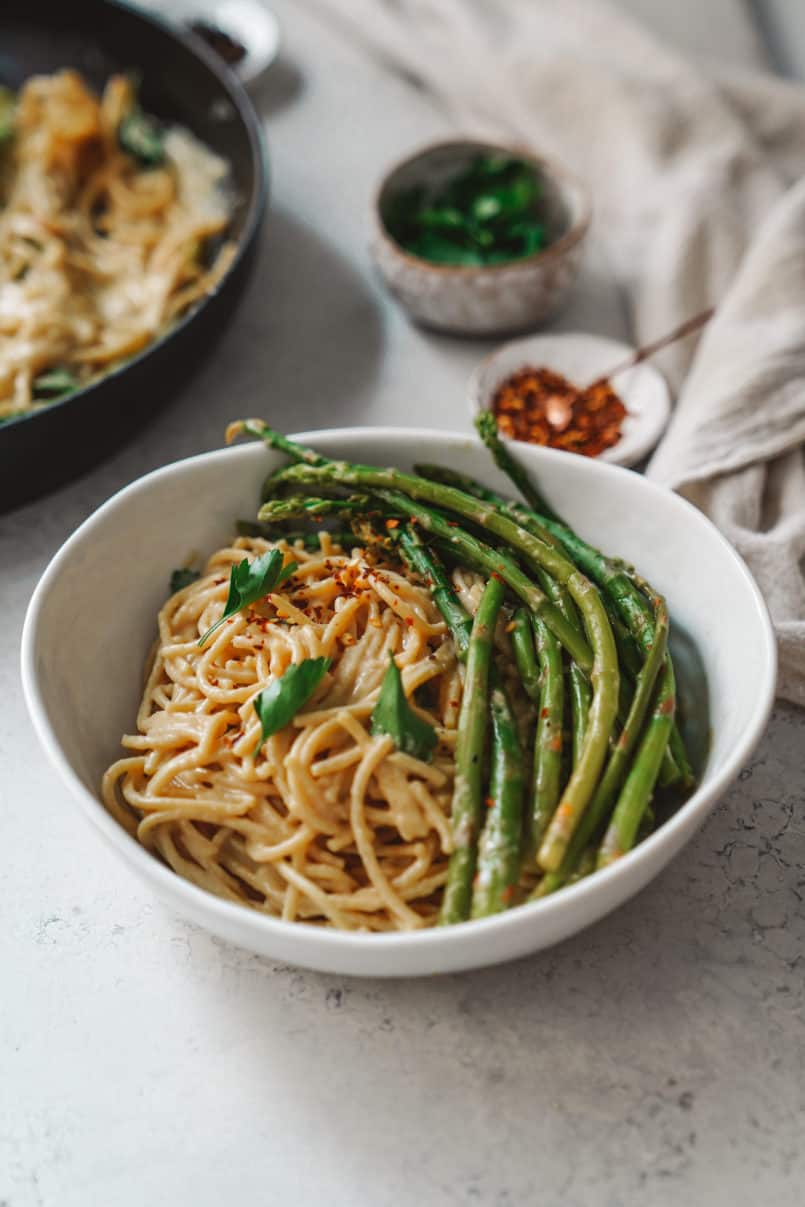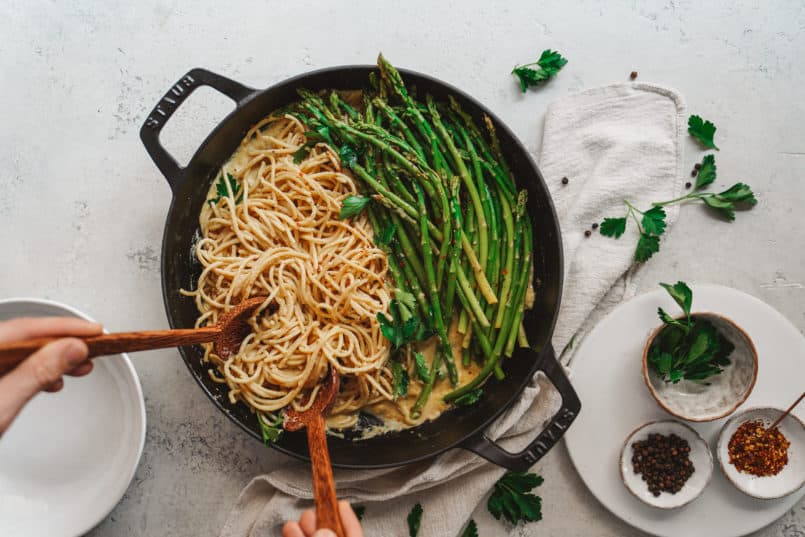 Send Noodles
My relationship with pasta is a long and strong one. It's such a versatile food that can be eaten hot, cold, and all year long. I've cooked it up many times and paired it with lots of different sauces. This garlic and onion white wine sauce is super easy to make and a nice switch up from a more traditional tomato based sauce. For some other pasta inspiration be sure to try: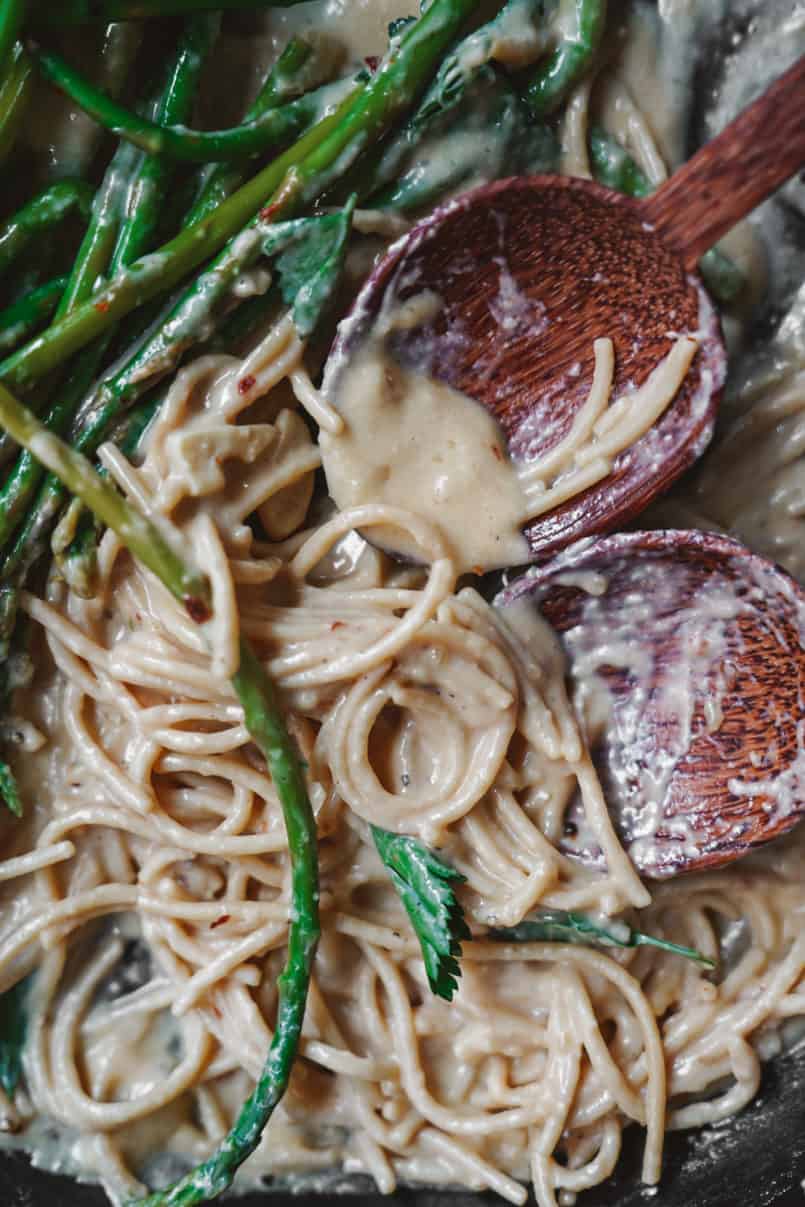 Check out the recipe below and don't forget to let me know what you think over at @foodbymaria and below in the comments! Tag #foodbymaria and #fearnotfoodisyourfriend so I can see all your beautiful recreations.
Print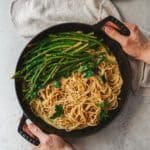 The Best Garlic + Onion White Wine Sauce
Prep Time:

10 minutes

Cook Time:

30 minutes

Total Time:

40 minutes

Yield:

4

Category:

Main Dishes

Cuisine:

Vegan
---
Ingredients
For the sauce:
4 tbsp. olive oil or butter
1 medium sweet white onion, finely chopped
3 clove garlic, crushed or finely chopped
1/3 cup dry white wine
1 tsp. vegetable stock paste
4 tbsp. corn starch
1 1/4 cup almond milk
3/4 cup coconut cream
season to taste
1/2 -1 tsp chilli flakes
3 tbsp. nutritional yeast
dash of lemon
For the asparagus/toppings:
1 head asparagus, de-stemmed and washed
2 tbsp. olive oil
1/4 cup of lemon
fresh parsley
season to taste
---
Instructions
Bring a large pot and a medium pot of water to a boil and salt generously.
Heat a large pan on medium heat. Once hot, add olive oil and onion.  Cook for 5 minutes or until translucent, stirring often.  Add your garlic and cook for 2 minutes before adding wine. It may flame, but only for a second.  Stir and wait till the liquid reduces.  Add your vegetable stock paste and stir.
Add your corn starch and whisk.  Now add almond milk and coconut cream and whisk again. It will start clumpy but it is normal. Just keep stirring till well combined.  Transfer to a high speed blender and add seasoning (salt and pepper), chilli flakes, nutritional and a dash of lemon. Blend on high for 1-2 minutes or until creamy an smooth.
Add asparagus to water and cook for around 5 minutes or until medium-soft.  Strain and shock in a ice water bowl to avoid cooking them any longer. Remove from water after 3-4 minutes and set aside.
Transfer your sauce back into the pan and bring to a low simmer.  The sauce will continue to thicken from the heat so if it becomes to thick just add a bit more almond milk and whisk.
Add pasta to boiling water and cook according to package instructions – I used Cali-Flour Pasta!
Strain and drain your pasta and add it to the sauce!  Top with your asparagus, drizzling of olive oil, some lemon, chilli flakes, fresh parsley and salt!
Best when enjoyed hot!  Also great with garlic bread!
---
Notes
Can substitute coconut cream for almond milk
Will last up to 2-3 days in the fridge in a tight sealed container.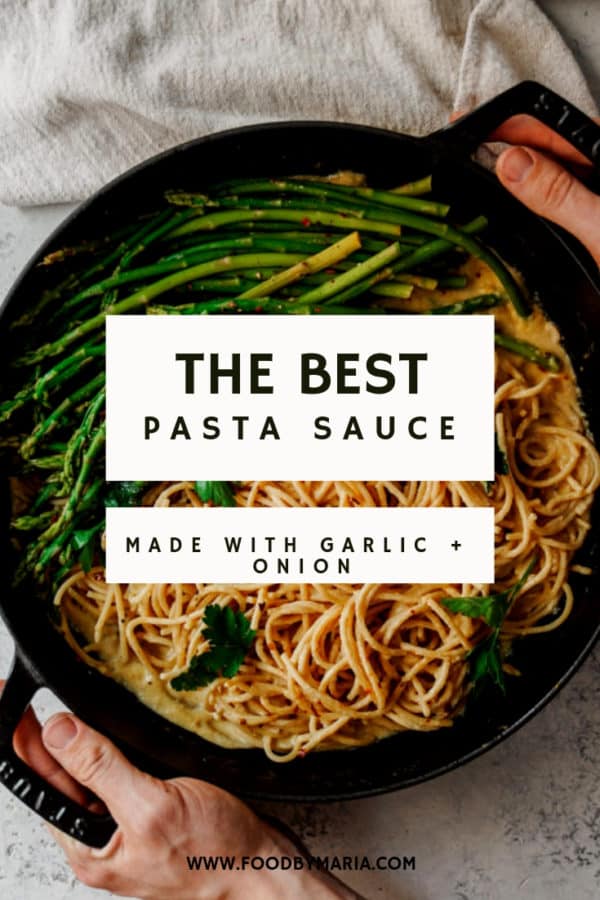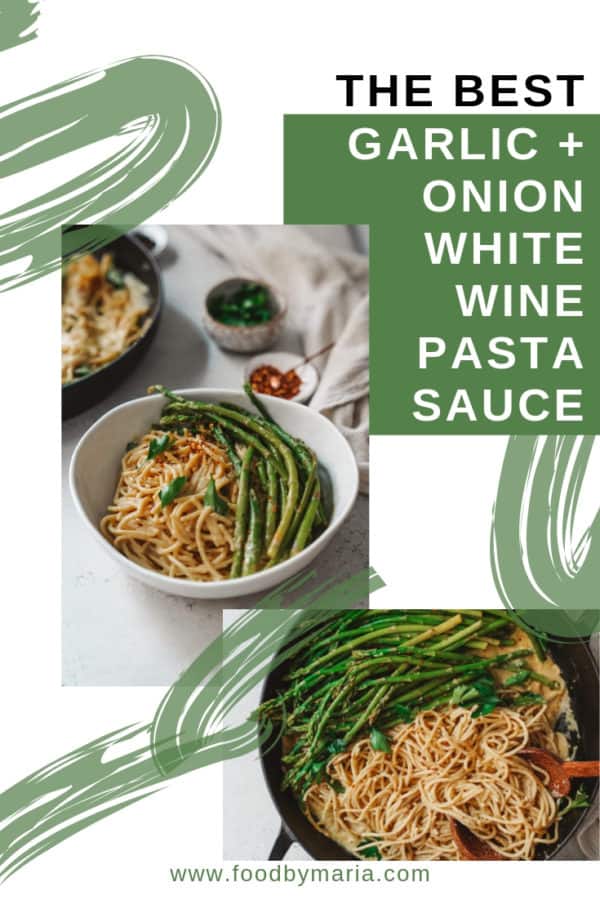 Disclaimer: This post was sponsored by Cali'flour Foods