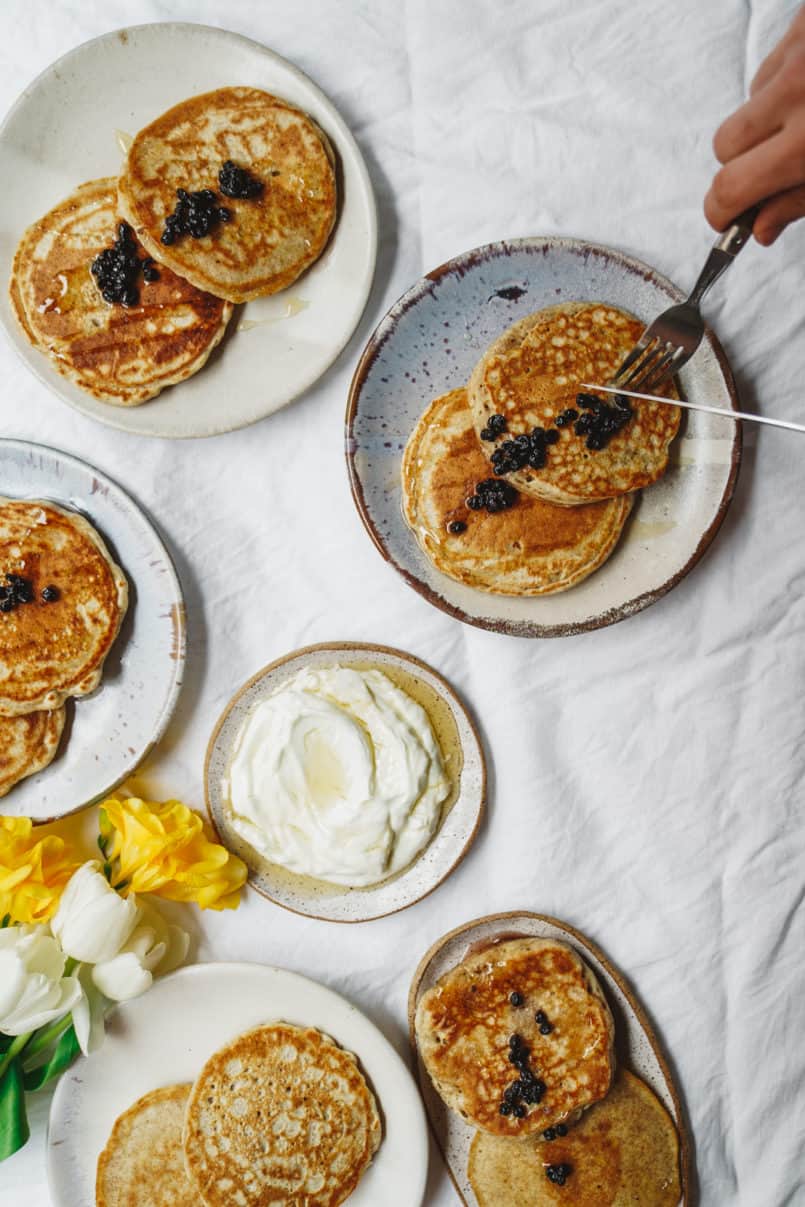 23 Apr

Easy Fluffy Pancakes Drizzled in Homemade Berry Simple Syrup

You've probably heard the saying "breakfast is the most important meal of the day." If you ask me, every meal is important and an opportunity to feed your body tasty and nutritious food. Whether you are eating plant-based, vegan, or whatever is on the menu, I think it's important to eat intentionally. Be aware of what you are putting in your body and why. So what did I make Andrew and myself for breakfast the other day, pancakes, and why did I make them? Because pancakes are so easy to make and fucking D-licious! Friends it shouldn't be that complicated.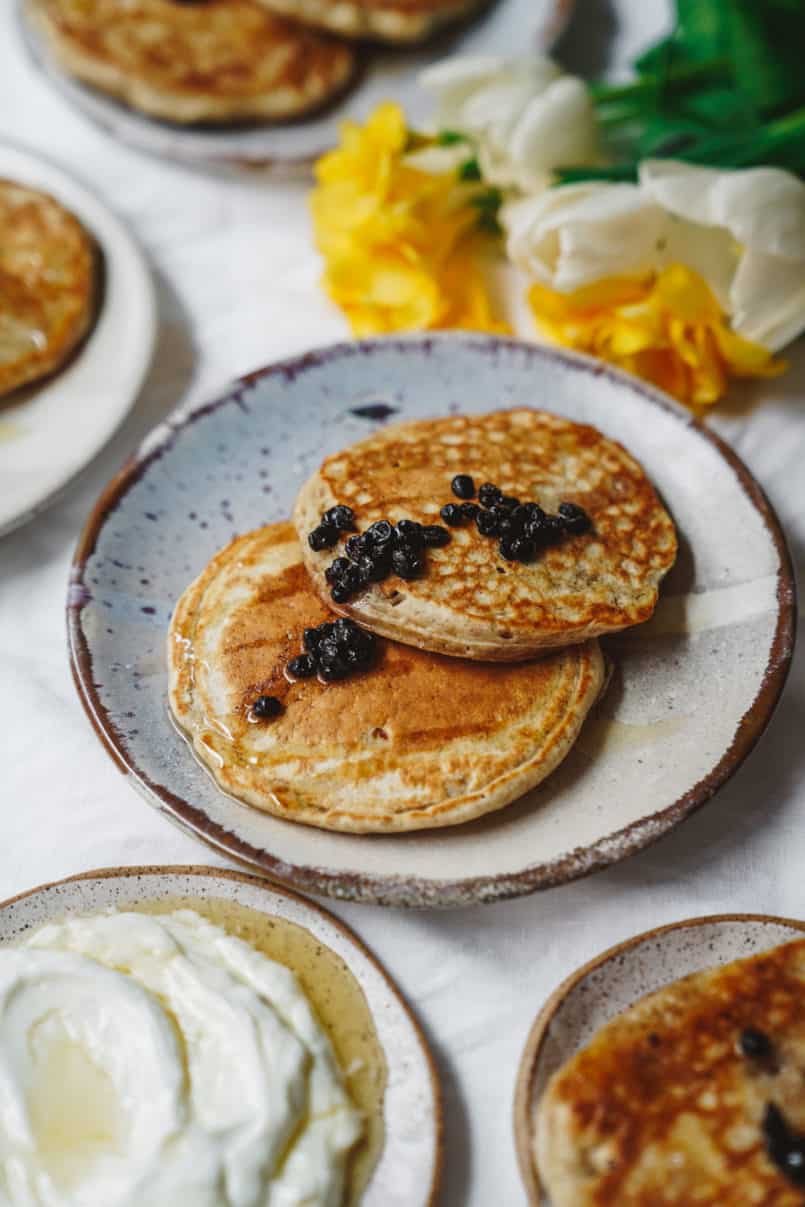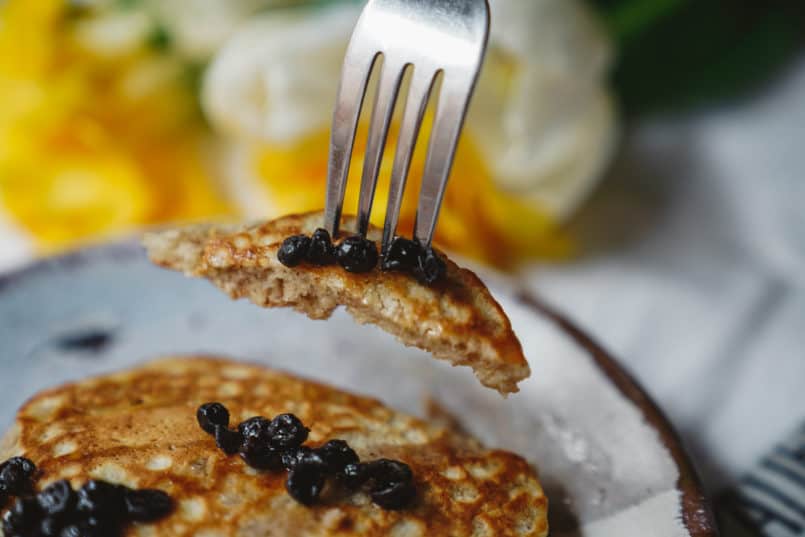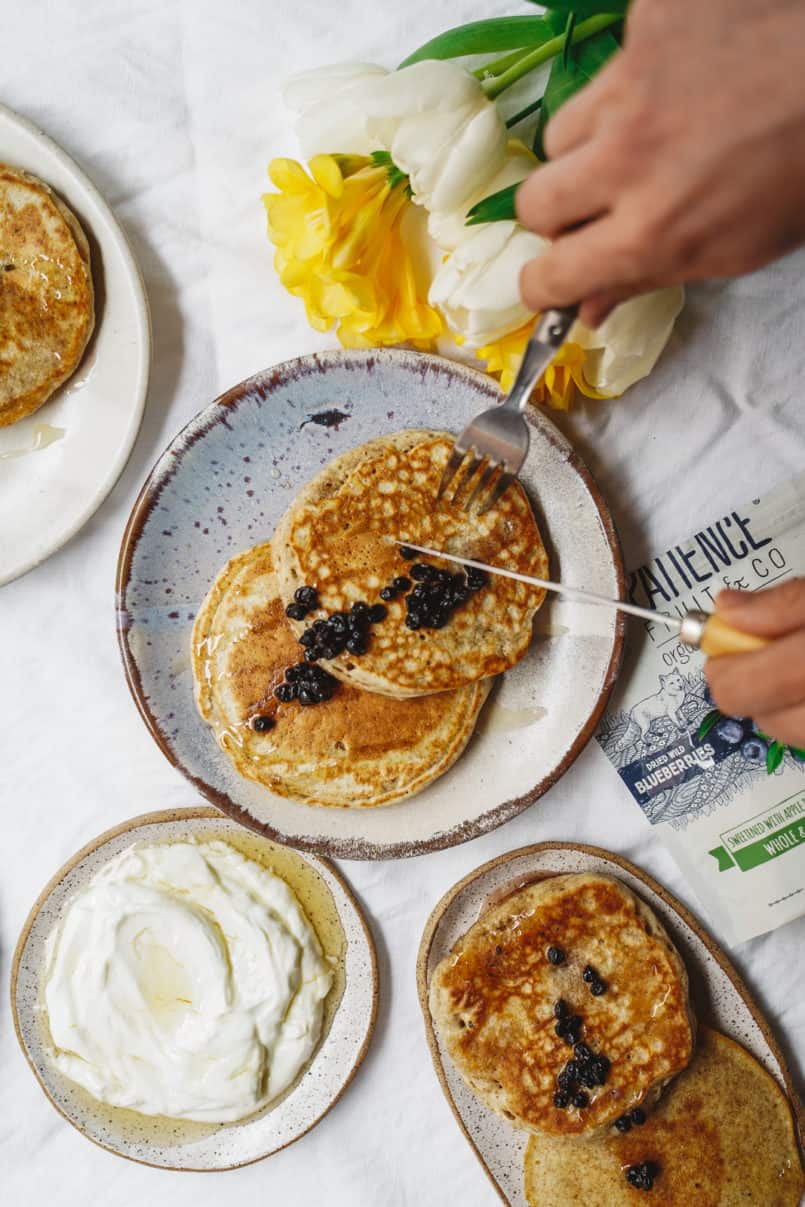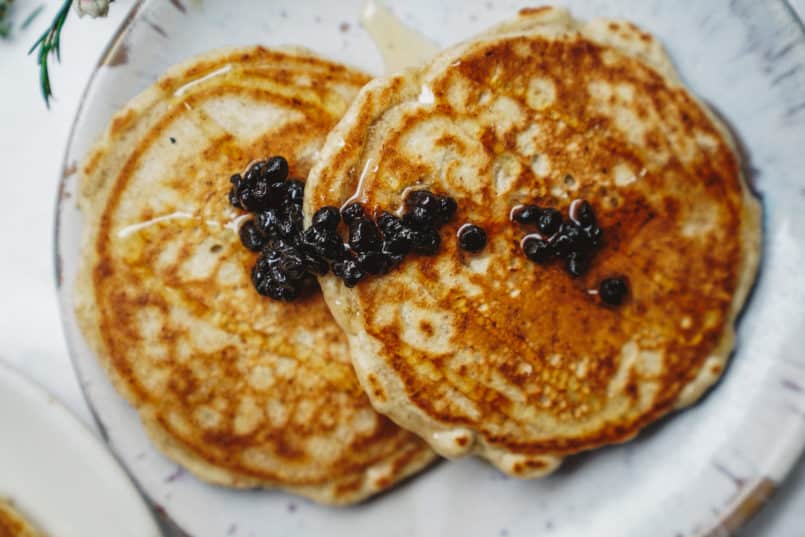 The Perfect Pancake
I know it might seem like a good idea to pick up a box of pancake mix that you just have to add water too. I get it, life is busy and convenience sometimes has to win. But, the secret to the best light and fluffy pancakes can't be found in a box. What you will find is a bunch of unnecessary ingredients and words you can't pronounce. Although there are some companies coming out with pretty clean options, once you make these pancakes from scratch you will see how easy it is and probably won't feel the need to buy a mix again. I used all-purpose flour to achieve that classic pancake texture and this recipe will only take you 10 minutes to whip up and 3 minutes per pancake to cook!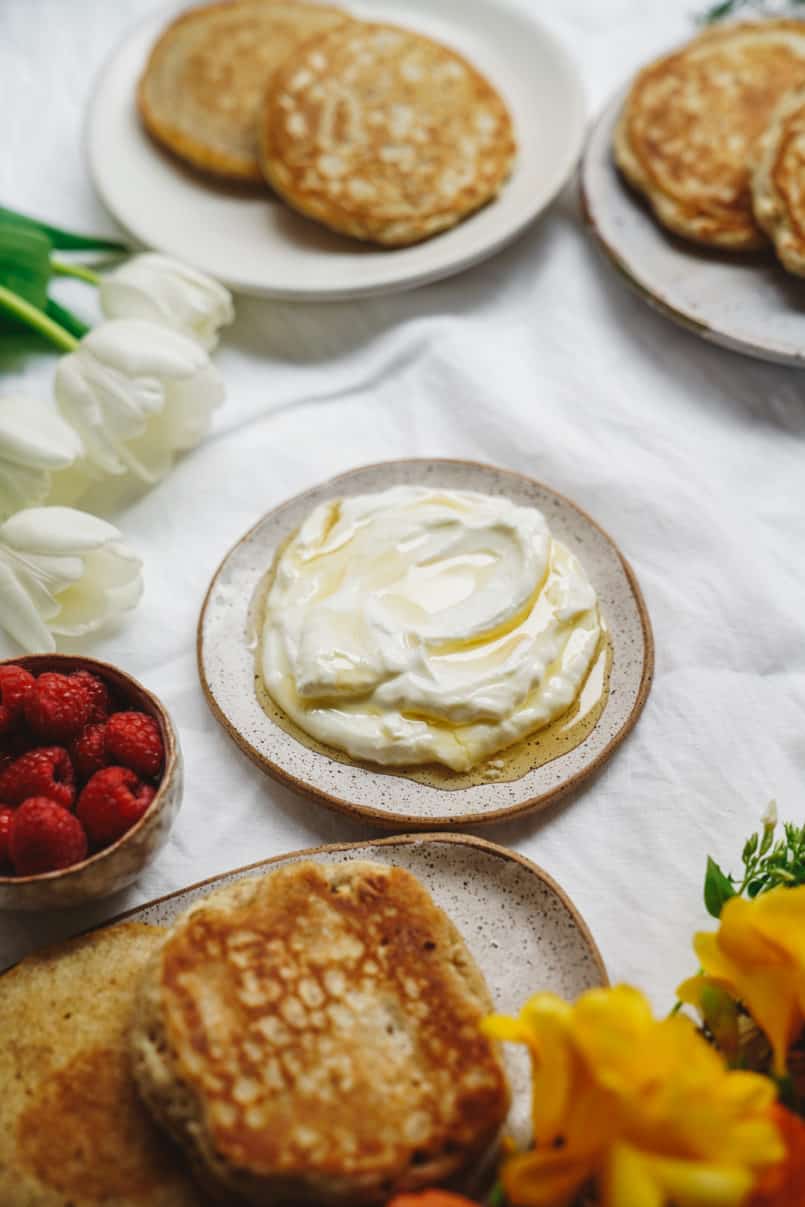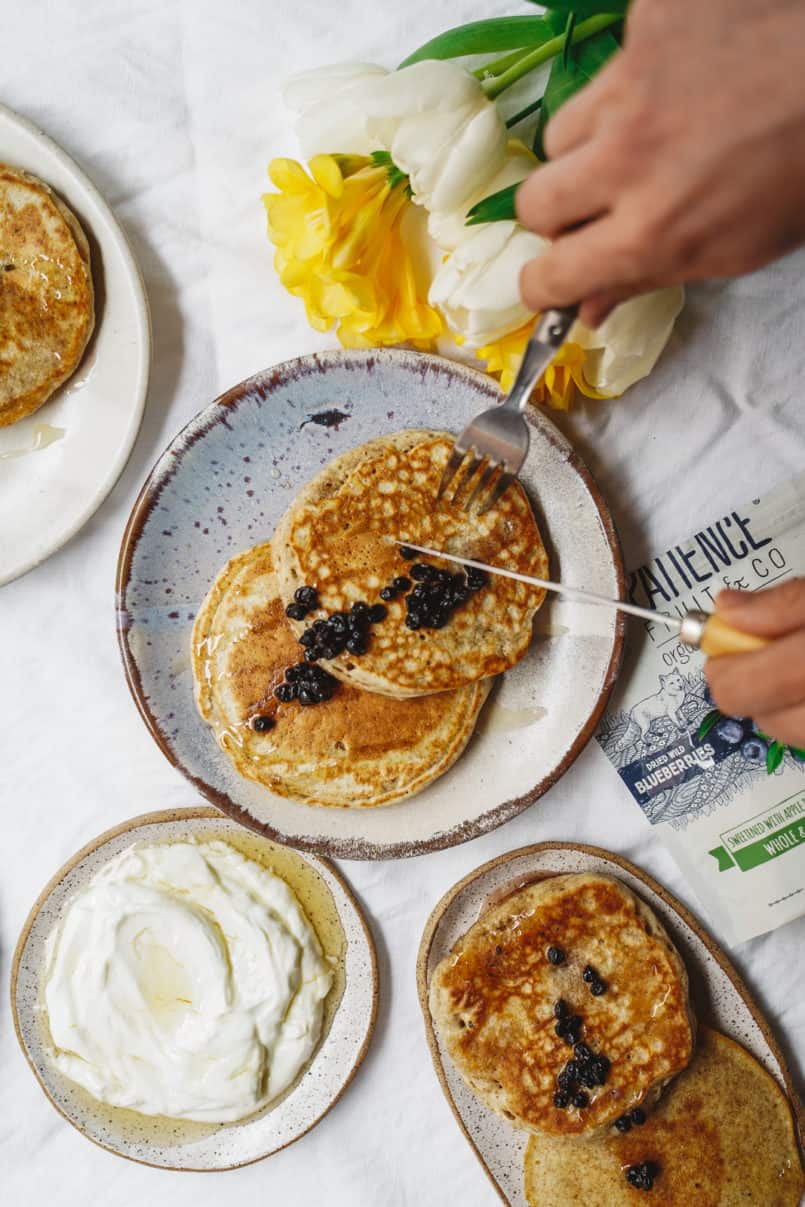 Berry Good Simple Syrup
Want to take your syrup game up a notch? This homemade berry simple syrup only has 3 ingredients and is a real crowd pleaser, everyone will think you are super fancy! Syrup isn't just for pancakes either, so once you've made a batch of this berry-infused version start pouring it on everything like a bowl of oats, use it in a cocktail, or mix it in with plain Greek yogurt. I used Patience Fruit & Co. whole dried wild blueberries for this recipe. Not only are they grown right here in Canada, but they also don't use any genetically modified ingredients, or any chemical artificial fertilizers or pesticides. When making this recipe you can even throw a handful of whole dried blueberries in your pancake mix for extra flavor.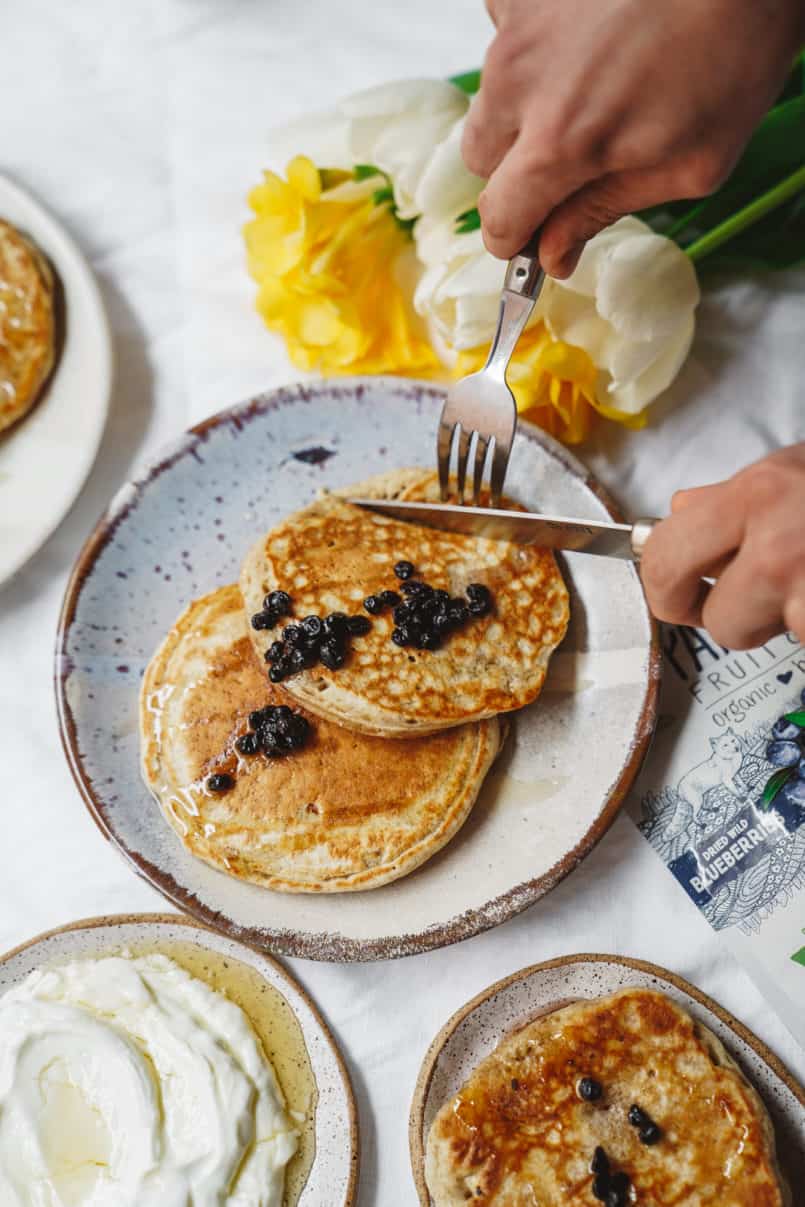 Breakfast Actually Is V Important
If your breakfast is at 5 am or 10 am, it doesn't really matter as long as you are listening to your body. Breakfast literally means to "break" the fasting that you've been doing since your last meal the night before. So what you are putting in your mouth is the first thing your body is consuming for probably over 12 hours of fasting. That is why it's important to be aware of what that thing is. A glass of water is a great and easy way to start the day, but after that, there are so many wonderful options. I will suggest staying away from a lot of baked goods as they are usually cakes in disguise (yes you can totally have cake for breakfast just maybe not all the time). I love breakfast so I have come up with a few of my favorites, check them out below: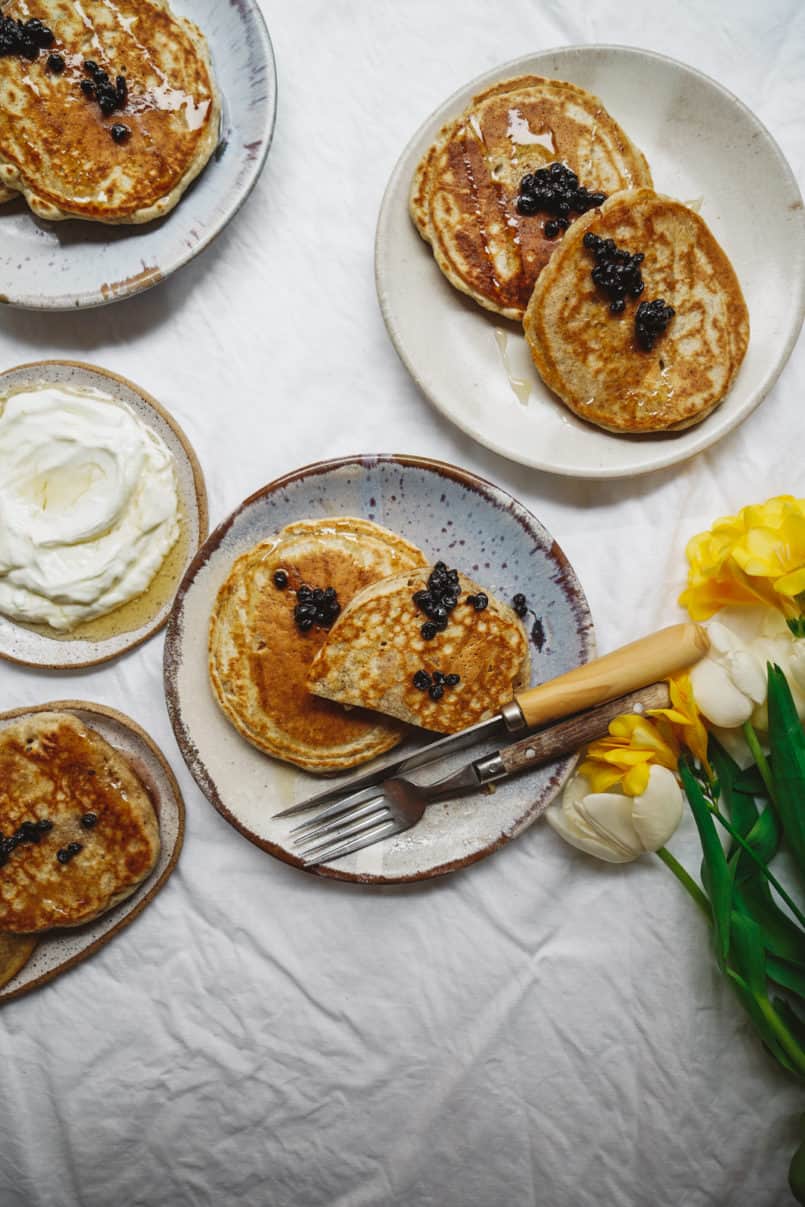 It's time to up your breakfast game, and this easy fluffy pancake recipe is perfectly paired with my homemade berry simple syrup is a great place to start! Check out the recipe below and don't forget to let me know what you think over at @foodbymaria and below in the comments! Tag #foodbymaria and #fearnotfoodisyourfriend so I can see all your beautiful recreations. Also, be sure to save to your Pinterest board for safe keeping;)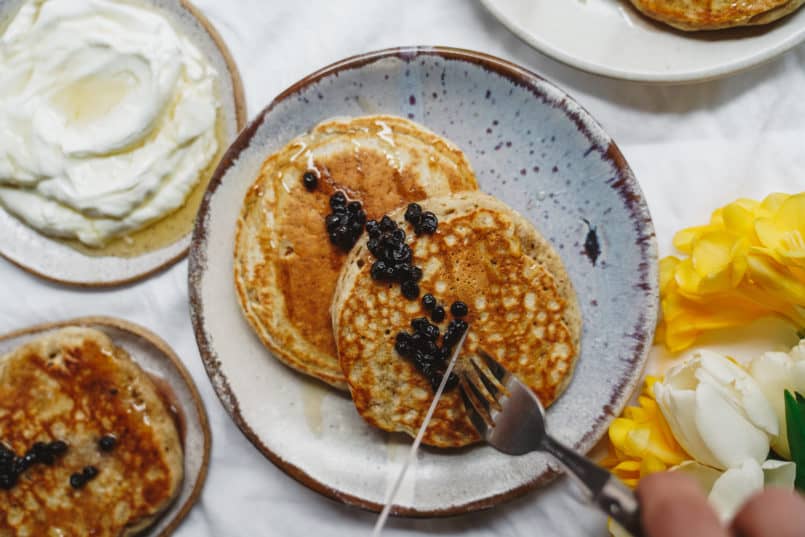 Print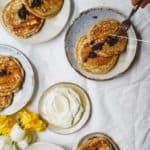 Easy Fluffy Pancakes Drizzled in Homemade Berry Simple Syrup
Author:

Prep Time:

10 minutes

Cook Time:

25 minutes

Total Time:

35 minutes

Yield:

16

Category:

Breakfast

Cuisine:

Vegan
---
Ingredients
For the pancakes:
3 cups all purpose flour

4 tsp baking powder

3 cups coconut milk or almond milk
1/4 cup brown sugar
5 tbsp coconut oil, melted
1 tsp apple cider vinegar
1 tsp vanilla

pinch of salt

coconut oil for pan
For the simple syrup:
3 tbsp white sugar
3 tbsp water
1/2 tsp vanilla paste
85g wild dried blueberries – I used Patience Fruit & Co.
---
Instructions
Into a large bowl mix your dry ingredients.

Into the same bowl, add your wet ingredients, stir and let the mixture rise for around 2-3 minutes.

Pre-heat a non stick pan and spray with coconut oil.  Spoon your batter in the pan and on medium heat cook your pancakes for around 4 or until you see the bubbles at the top developing or edges starting to brow. Flip and cook for another 2-3 minutes.

For the simple syrup, add white sugar, water, vanilla paste and wild blueberries to a small sauce pan and cook on low heat for 5-6 minutes.  Stir often to avoid burning.
Serve up your pancakes hot with a drizzling or simple syrup and any additional toppings you may fancy.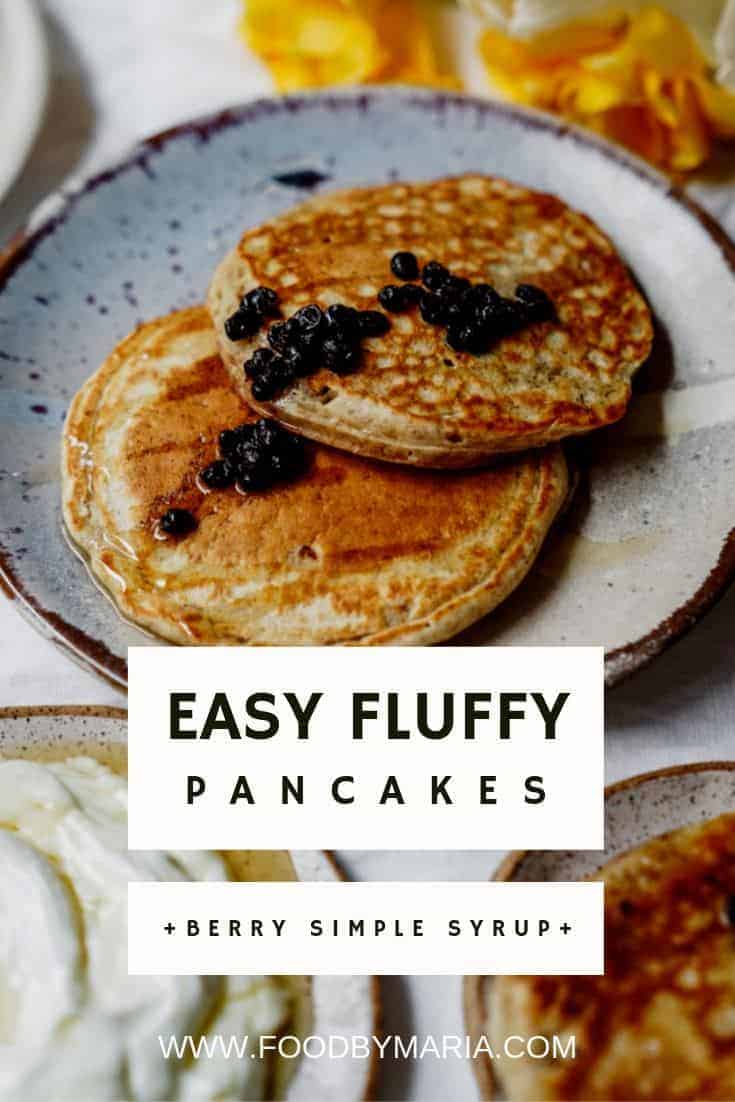 Disclaimer: This post was sponsored by Patience Fruit & Co.