Desserts
Nutty Dark Chocolate and Strawberry Chia Jam Cheesecake
Last Updated: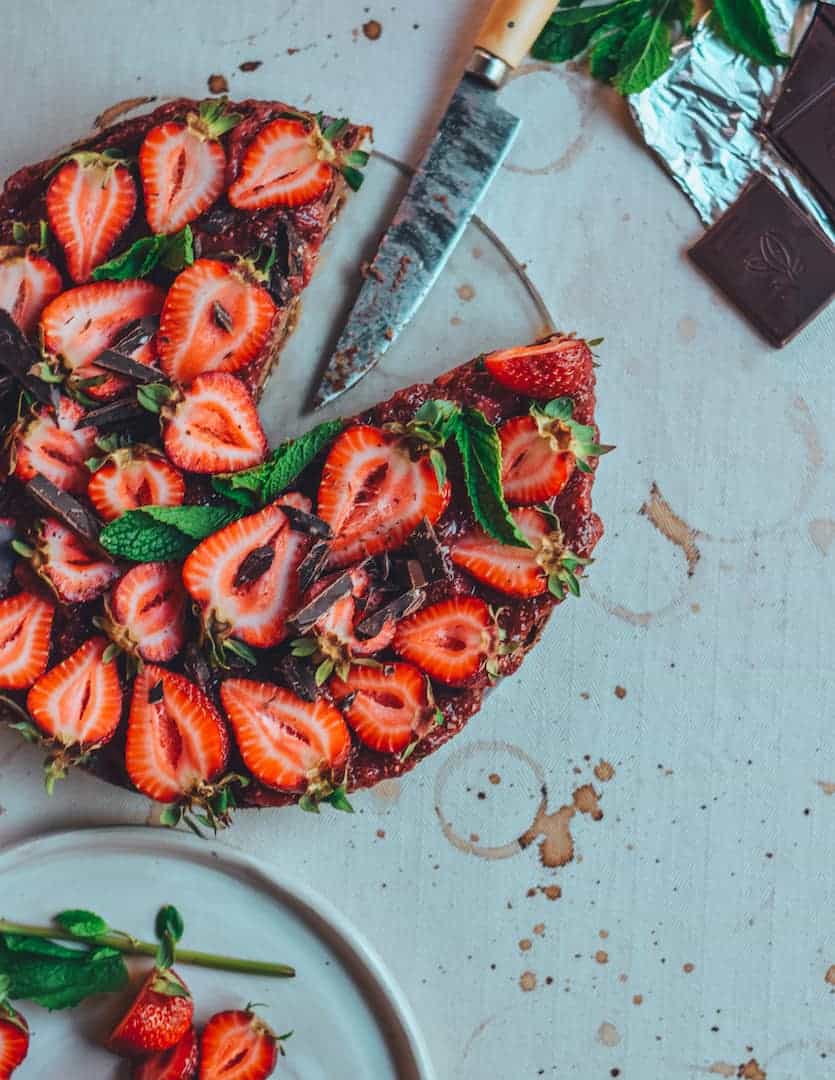 Holy Guacamole, did someone say Nutty Dark Chocolate + Strawberry Chia Jam Cheesecake?  Yep, I did and this cake is entirely inspired by my childhood addiction. I know what you're thinking, Maria was healthy when she was young… HAHA  NOPE!  I wasn't addicted to vegetable recipes and vegetarian recipes, I was a full on CAKE ADDICT!   I'm not kidding guys I would eat DQ Ice Cream Cake at any opportunity and half the time it wasn't even my damn birthday *sigh* – poor parents .
Why didn't anyone ever try to tell me that it was filled with sugars and not-even-dairy stuff? Oh right, my parents did but I ignored them, in true nature of being a young independent know-it-all woman I did what I thought was best for me and that meant EATING ALL THE GOD DAMN CAKE, OK!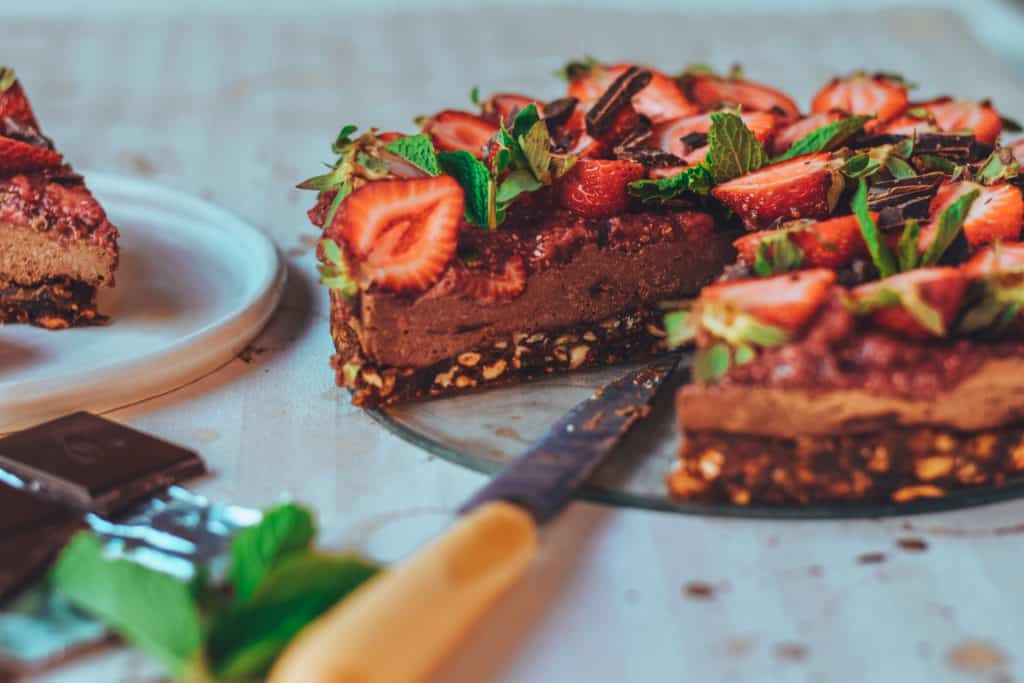 So, now, years later, I am more wise, less hormonal and more intelligent I decided to create a little replica of this cake.  Baby I must say I did good and I would have really impressed my 7-15 year old self (the addiction was real)!
This cake is made using no sugar, no dairy, no bull shit – feel free to use organic food when you can, we did too – , just straight up goodness from the sweetness of dates.  It got the crunch from nuts like almonds and walnuts.  Got that silky smooth texture from this crazy ingredient called CASHEWS and good quality melted dark chocolate.
In this recipe I used 86% Cocoa Dark Italian Chocolate, Vanini and my word it was amazing. It's plant based, rich and extremely creamy once melted.  A great addition to this cake and certainly good it you want to add antioxidants and flavour to a cake that it otherwise considered "unhealthy"… I promise you, no one will ever know!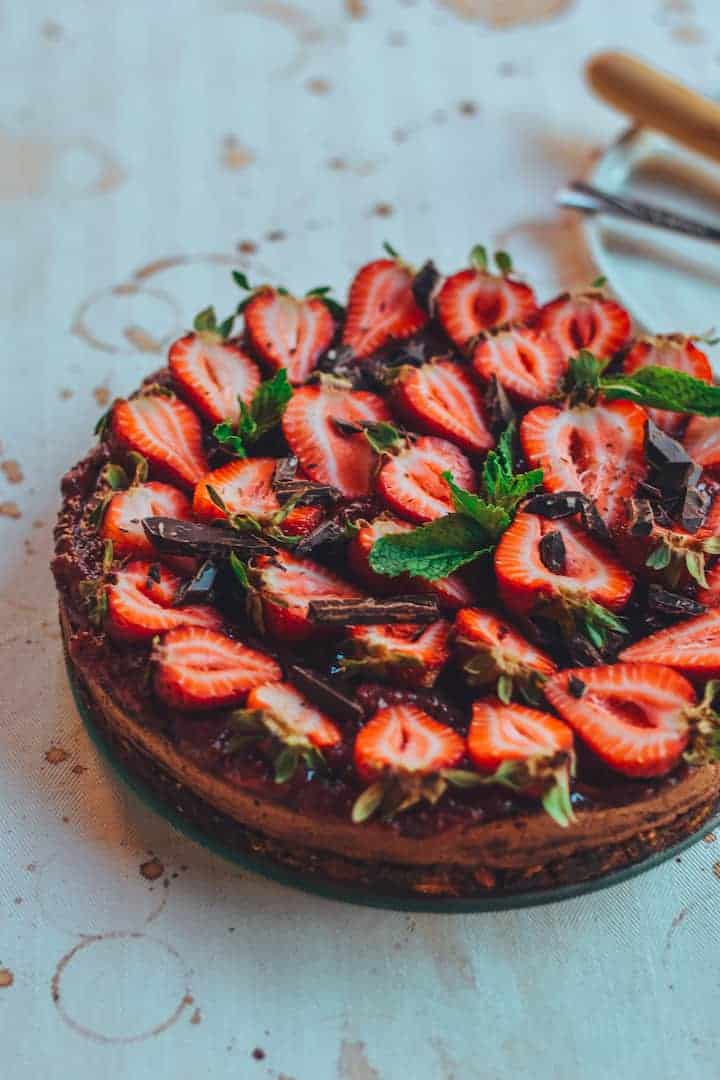 You're going to fall in love with this Nutty Dark Chocolate Cake because it is:
vegan, raw and fabulous
made using natural foods
the perfect addition to your plant based diet recipes
silky smooth, rich and crunchy
a great alternative to sugary cakes
DELICIOUS AF
Need another chocolate recipe to try? Try this vegan chocolate cake recipe.
I hope you enjoy this recipe as much as we did! As always if you try the recipe please leave us a comment below, tag #fearnotfoodisyourfriend so we can find your remakes! Thank you for stopping by!
Love from Your Greek Food Goddess XOX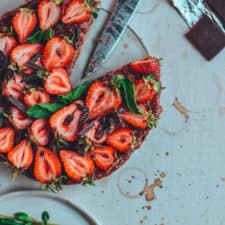 Nutty Dark Chocolate and Strawberry Chia Jam Cheesecake
Ingredients
For the Nutty Base:
2

cups

pitted medjool dates

soaked in warm water for 5 minutes

1

cup

raw almonds

1

cup

raw walnuts

1

tbsp

rice malt syrup

2

tbsp

cacao powder
For the Chocolatey Cheesecake:
3

cups

raw cashews

1/2

cup

unsweetened coconut milk from carton

1/2

cup

light coconut milk from can

2

tsp

vanilla

100

grams

Vanini Ciocoolato

melted (either using a microwave or 20 seconds or using a hot water bath)
Chia Jam:
4

cups

frozen strawberries

1

tbsp

coconut sugar

3

tbsp

chia seeds

Decorate with Fresh Strawberries

Dark Chocolate Shavings and Fresh Mint
Instructions
For the base of the cake:
Line the base of a 9 inch spring pan with parchment and set aside.

Into a food processor and all your ingredients and blend till a large ball forms (if your processor is not very strong this will not happen) or until well combined. You should still be able to see the nuts but make sure the dates are nice and smooth!

Using your hands flatten out the based of the cake into the tin. Tip: you can use a cup or mug to make sure everything is even.

Place in freezer till you add your Chocolate Cheesecake.
For the Chocolate Cheesecake:
Add all your ingredients into a high speed blender (add your liquids first) and blend till smooth -

around two minutes. You may have swoosh down the sides of the blender a few times to make sure everything is well blended.

Once blended transfer your mixer to the cake tin. A quick trick to flattening the cream is by slamming the tin down on the table a couple times, does the trick for me ;). If you have no stress to release just use the back of a spoon.

Place in freezer to set for at least 3 hours but I prefer leaving it over night!

Before serving prepare your jam. Simply add all your ingredients into a 10 inch cast iron skillet. Bring mixture to a boil and then simmer on low heat for 30 minutes - stirring occasionally. Remove from heat and using a fork smash the bits of strawberry to create your jam consistency.

Let your jam cool for 5 minutes then add your chia seeds. Once warm enough that it won't melt the cake begin spreading it over the cake.

Finish with your fresh berries, chocolate and mint as garnish. You can refer to photo for inspiration!

Enjoy.

Lasts in freezer, covered with cling film up to a week!