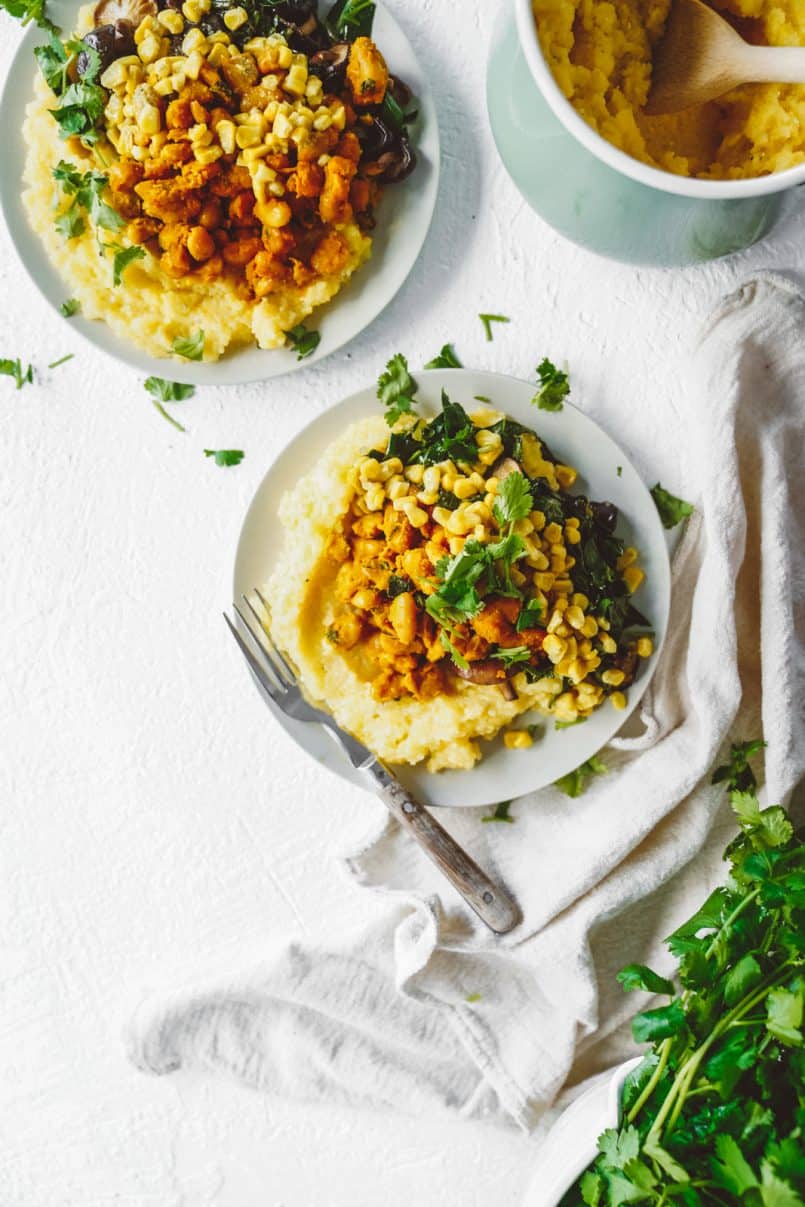 09 Apr

Vegan Grits, Creamy Beans and Collards

This is the perfect post gym vegan recipe that'll leave you full and satisfied! I promise.

Recently I discovered Bob's Red Mill's grits and I'm kinda obsessed. It is made with coarsely ground bits of white corn, is healthy and super easy to cook. What I love about it is that it's something cool and different for consuming and enjoying carbs. I noticed grits were popular when I was in Nashville in October and I've been meaning to put together my own recipe using grits since then!

Grits are super versatile, vegan, and there are so many unique ways you can use them. You can eat them on their own, make polenta cakes, polenta chips, casseroles, and I've seen people use them to make mini pancakes that act like tacos! Uhmm… yum!
With this recipe, I combined the grits with beans and collards to add more protein and healthy vegan goodness. The recipe is super simple, creamy and delicious. Plus it tastes fantastic leftover too! What is great about this recipe is that you can spice it up by adding a plant-based Mexican flair to it with pico, avocado and fresh cabbage slaw. The possibilities are endless too, so get creative!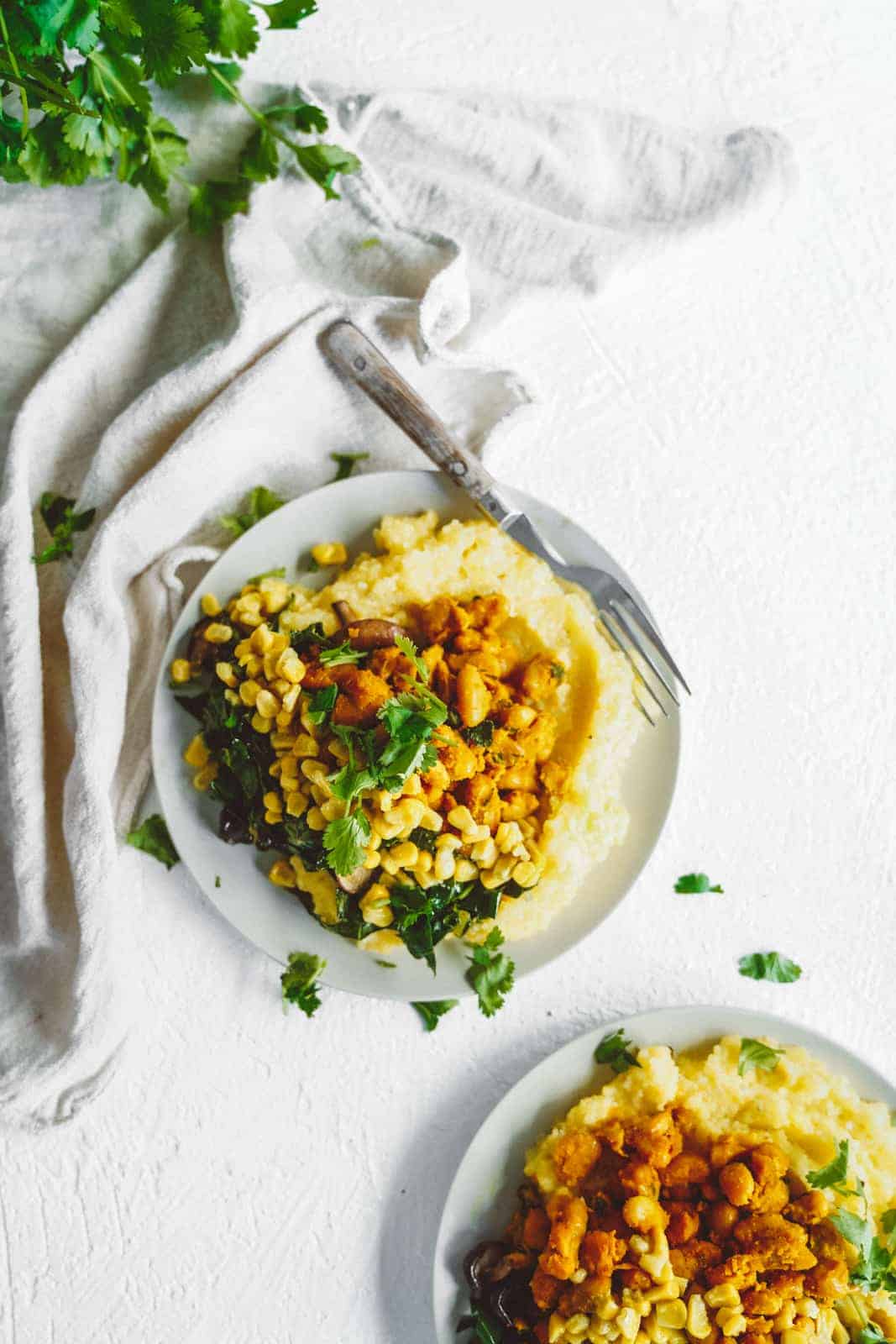 About Butter Beans
For this recipe I used butter beans, which not everyone is super familiar with but I love them. Butter beans are a healthy carb, that's low in calories, packed with fiber and protein, and also vitamins and minerals. These beans are fantastic to be part of a plant-based diet as about a half serving of butter beans will account for 10% of your recommended iron and zinc, and 15% of your magnesium. Butter beans also are high in vitamin B, will help increase your energy levels!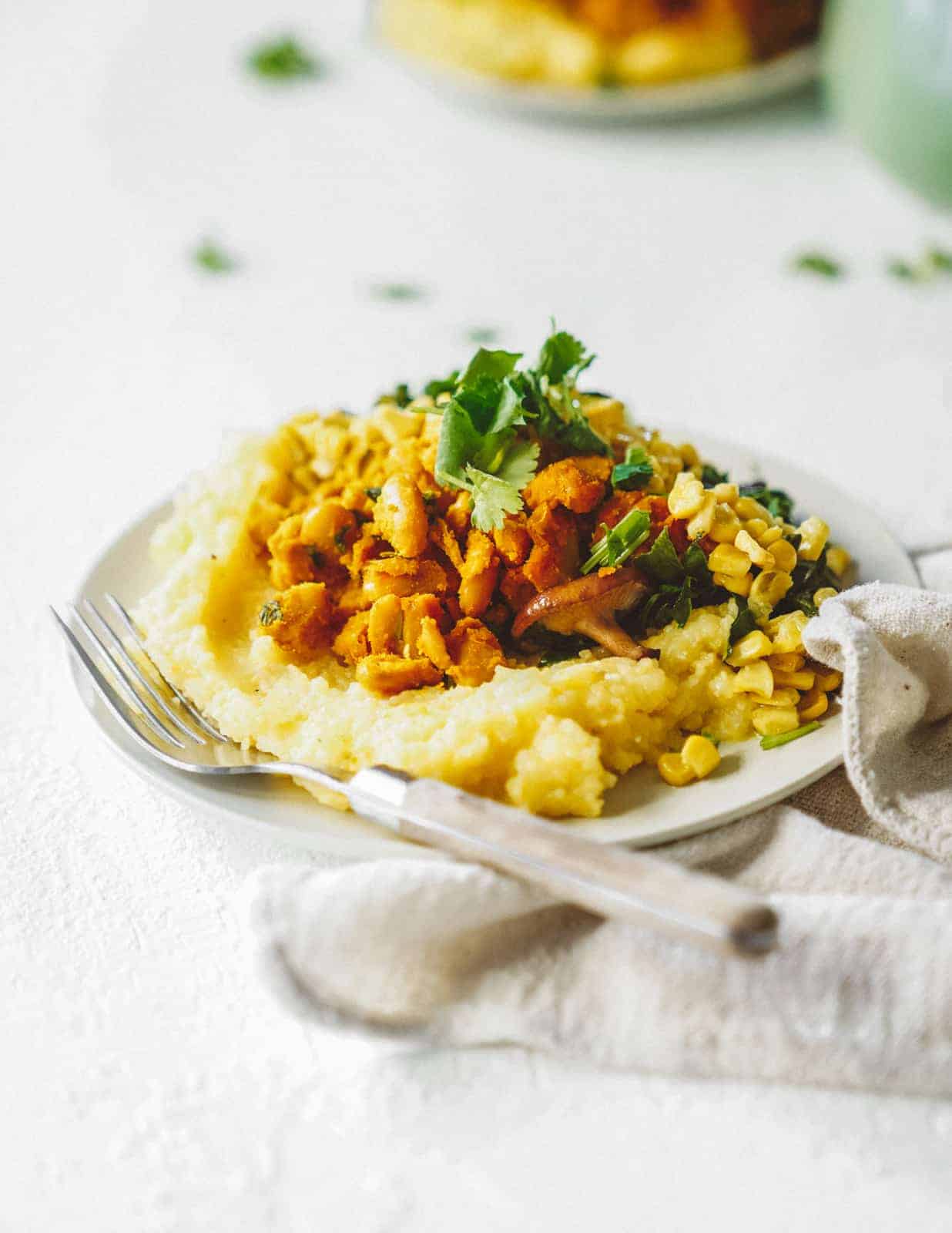 Benefits of Collard Greens
I find collard greens are an incredibly underrated green and I think they compliment this recipe really well. Collard greens are packed with nutrients that will help you build a strong and healthy body. Just one cup of collards will provide you with 100% of your daily recommended intake of vitamin K which helps build strong bones. Collards have also been known to help in the prevention of cancer, diabetes and helps with digestion and your liver function.
With the high density of vitamin A, collards help keep your hair healthy and strong, and vitamin C contributes to keeping your nails and skin clear and healthy. Last but not least, collards help with your mood and sleep. Collards contain choline which helps with sleep, muscle movement, learning, and memory.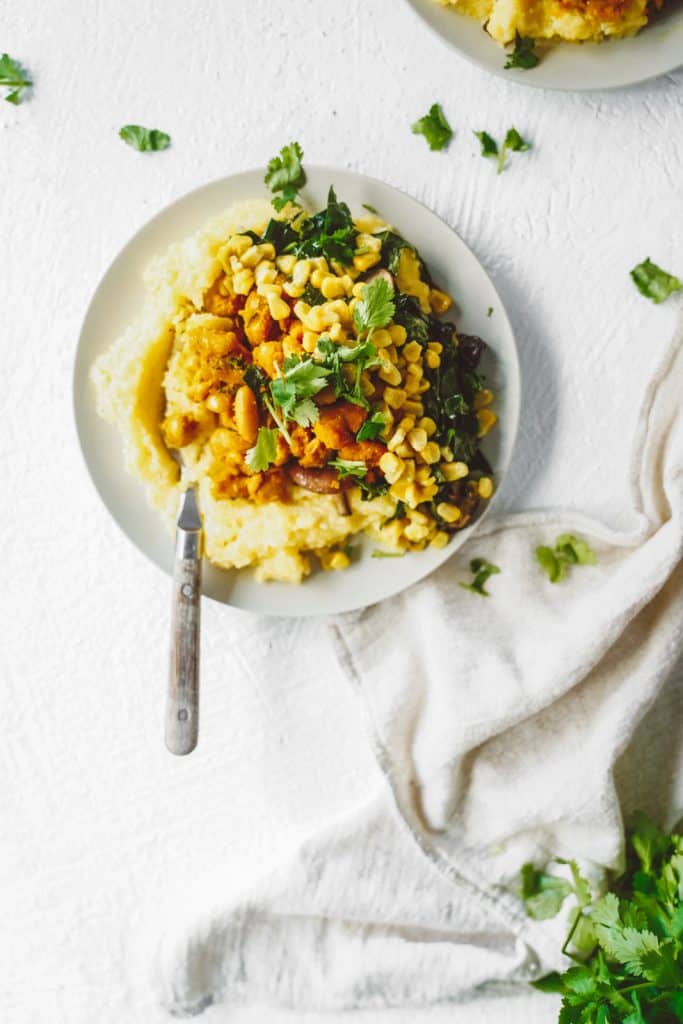 Why This Recipe Is Great
This recipe is:
Versatile
Easy to make
Easy to clean up after
Creamy
Filled with protein
Great for someone wanting to amp up their post work-out meals and make some gains
What is your favourite comfort food or post-gym meal of choice? Share below!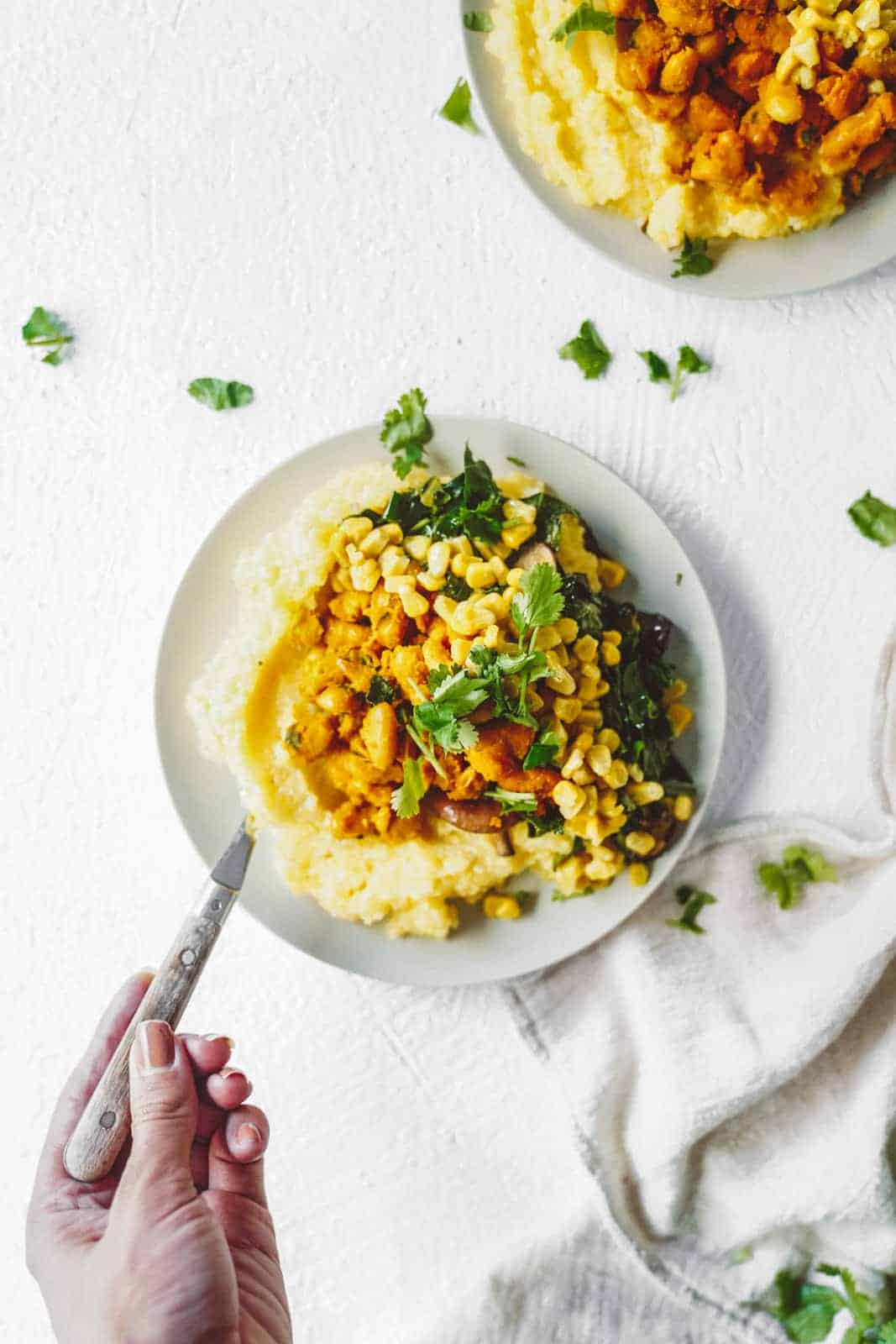 Print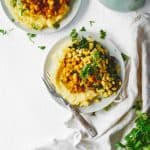 Vegan Grits, Creamy Beans and Collards
Author:

Prep Time:

15 minutes

Cook Time:

25 minutes

Total Time:

40 minutes

Yield:

3

Category:

Main

Cuisine:

Vegan
---
Ingredients
For the Grits:
1 cup Polenta – I used Bob's Red Mill
3 cups water
1 tsp better than bouillon veggie stock paste
season to taste
1 cup vegan meltable cheese or parm
For the Beans:
1 can of organic butter beans, strained and drained
juice of one lime
season to taste
3 tbsp. water
1 tbsp. hot sauce
1 heaped tbsp. coconut sugar
1 tbsp. soy sauce
1 tbsp.  extra virgin olive oil
1 tsp cumin
1 tsp smoked paprika
pinch of turmeric
pinch of cayenne
For the Corn:
3 cups frozen corn
1 cup coconut cream, you want the hard, rich stuff!
season to taste
1/4 cup cilantro
dash of lime
For the Collards:
1 bunch of collards, spine and stems removed or cut off, cut into bite size pieces
juice of one lemon
dash of olive oil
season to taste
---
Instructions
For the grits:
Add your polenta, water, stock, and seasoning to a pot.  Bring to a boil, then simmer for around 7 minutes or until cooked.  You're going to want to stir often to avoid burning.  Add water if you wish to have a more loose-like consistency.  Add your cheese and stir till melted. Taste test for seasoning.
For the Beans:
Into a medium sized sauce pan add all your ingredients and cook on low heat for around 10-12 minutes.  Cook till your beans are nice and soft, stir often to avoid burning.
I suggest doubling this recipe as it's so good, easy and simple to clean up! Add it to pastas, wraps, salads or simply eat on their own!
For the Corn:
Into a cast iron skillet add your corn and let it cook for 3 minutes.  You can pop a lid on and add some water to help steam them up.  Once softened, add coconut cream, seasoning, cilantro and lime.  Bring mixture to a bubble then simmer, while stirring often for around 5 minutes.
For the Collards:
Into a large frying pan add your ingredients and cook with lid on for around 7 minutes.  I love them a bit crunchy but still soft enough to chew and gently enough for your digestion.
For platting, just add your grits, then some beans, corn and collards.  This combo is so fun, easy and great for anytime of day! I love eating this type of meal after the gym!
Enjoy!
---
Notes
If you want to cook the beans from raw then simple soak them overnight in water.  Strain in the morning, cook till soft, strain again then add the bean ingredients.
I wouldn't suggest using coconut milk for the corn, you want the coconut cream yo achieve that silk texture and consistency.
You can also use kale or even beans if you don't fancy collars!