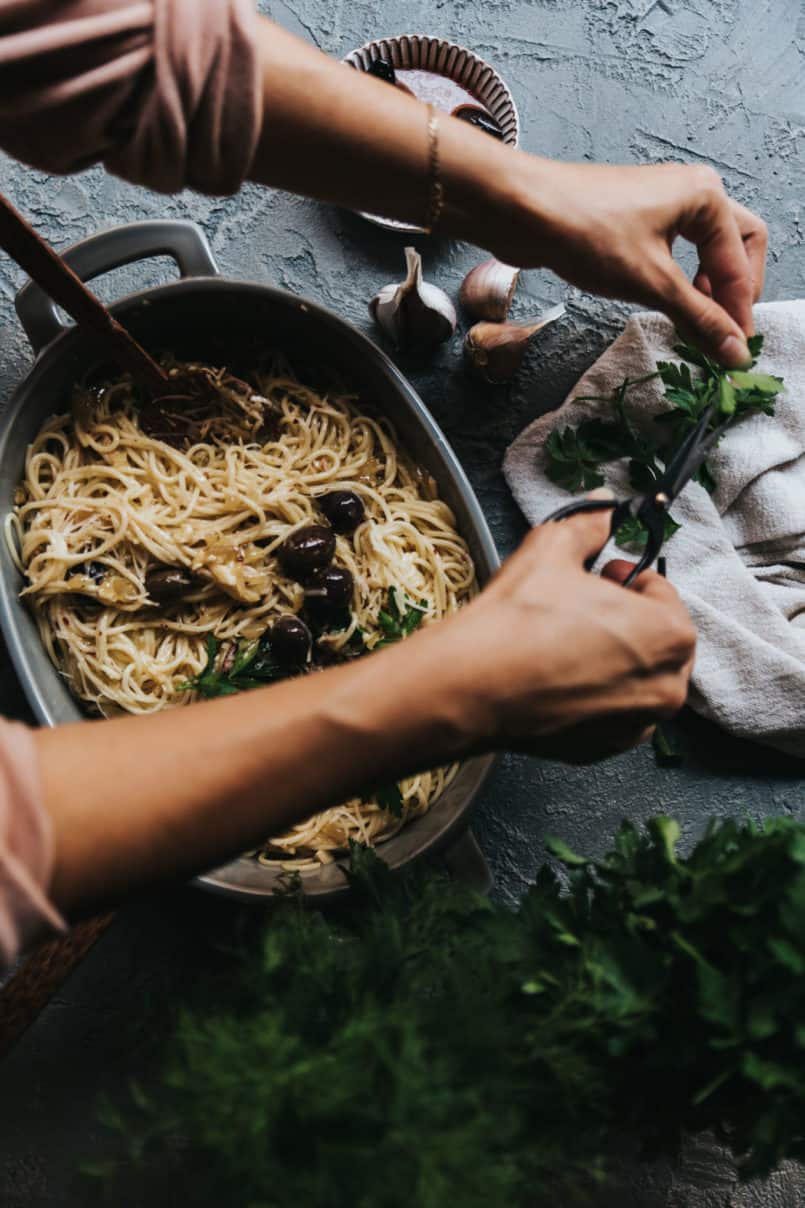 05 Nov

Vegan Creamy Garlicky Pasta

If there is one thing I know for sure, it's that I friggin' LOVE garlic, and there's nothing more comforting than a big bowl of creamy, tasty pasta, especially in the winter time. This super simple vegan recipe is full of flavour and is one of my favourites for cooking up for dinner.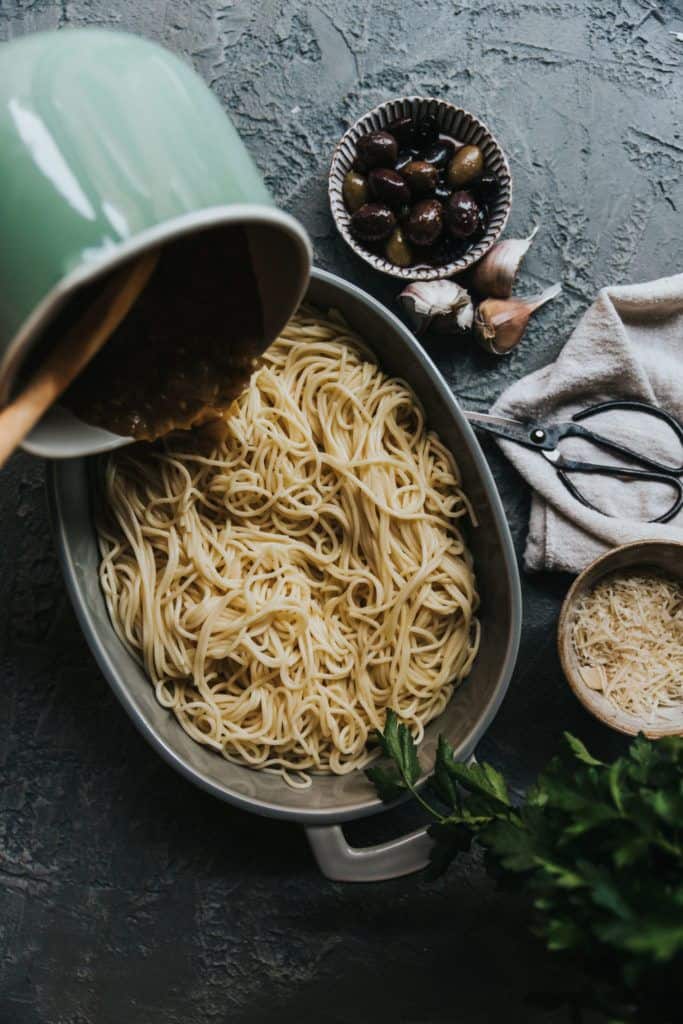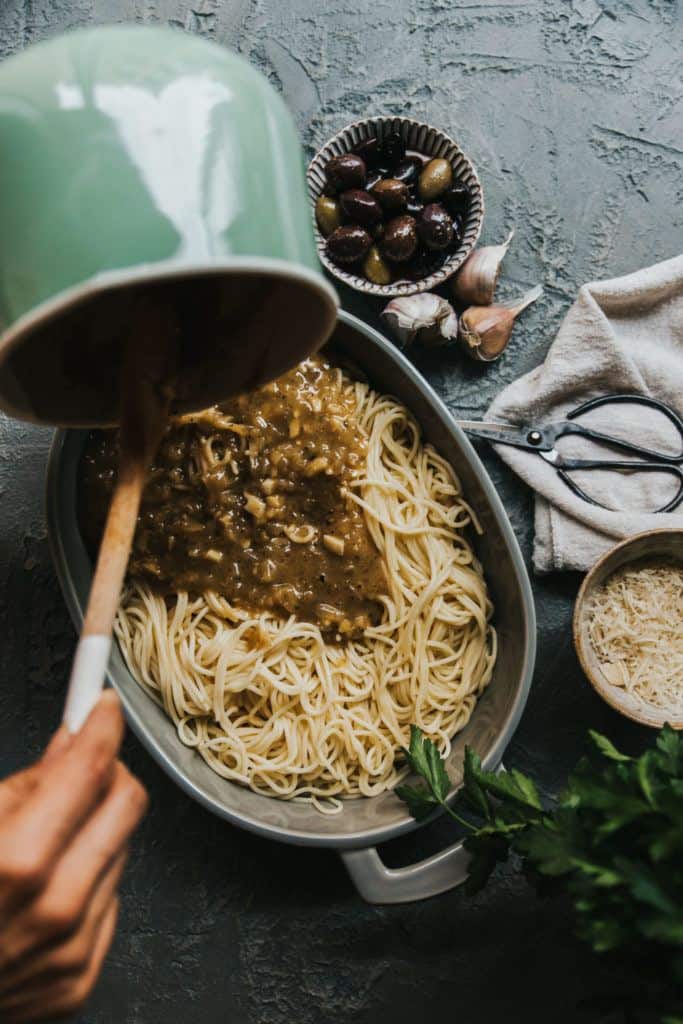 If you've been following me for awhile, you know I love a simple pasta recipe to whip up. Like my Grandma's 25 Minute Pasta Sauce, or this super healthy Vegan Protein Vegetable Pasta. Pastas are so versatile, inexpensive to make, and fill you up, which is why I like them, and this recipe is no different.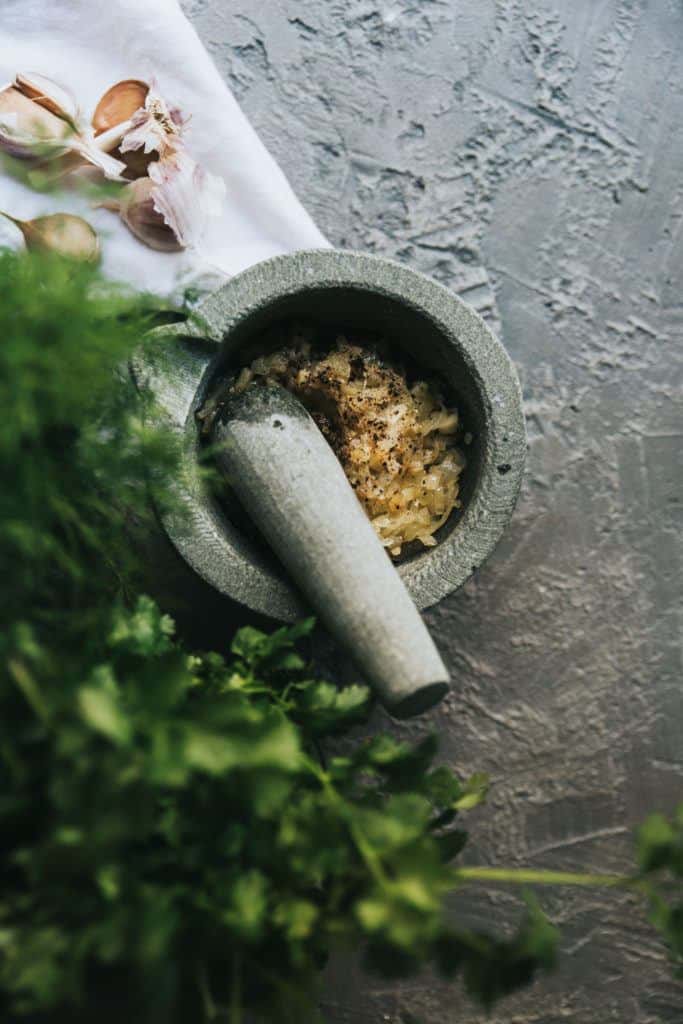 The superpowers of garlic
What makes this recipe great is of course, some of the superstar ingredients like garlic. Garlic is jam packed with flavour, you don't need me to tell you that, but it's also really healthy for you as well. In fact, did you know that throughout history the main use of garlic wasn't necessarily for cooking, but for its health and medicinal properties?
Scientists have proven that the health benefits of garlic come from the sulfur compounds formed when you chop up a garlic clove. Allicin for example is a compound briefly present in fresh garlic once it's been chopped. These compounds enter the body from the digestive tract and travel around your insides where it'll exert its biological effects.
Did you know that eating garlic can help detoxify heavy metals in your body?
Garlic also is full of nutrients with very little calories. It has:
23% of your recommended daily allowance of Manganese
17% of your recommended daily allowance of Vitamin B6
15% of your recommended daily allowance of Vitamin C
6% of your recommended daily allowance of Selenium
… and that's not it. Garlic also contains many other nutrients too! Since it's so nutrient dense, this magical little bulb can help combat sickness and your common cold, lower your blood pressure, and the list goes on.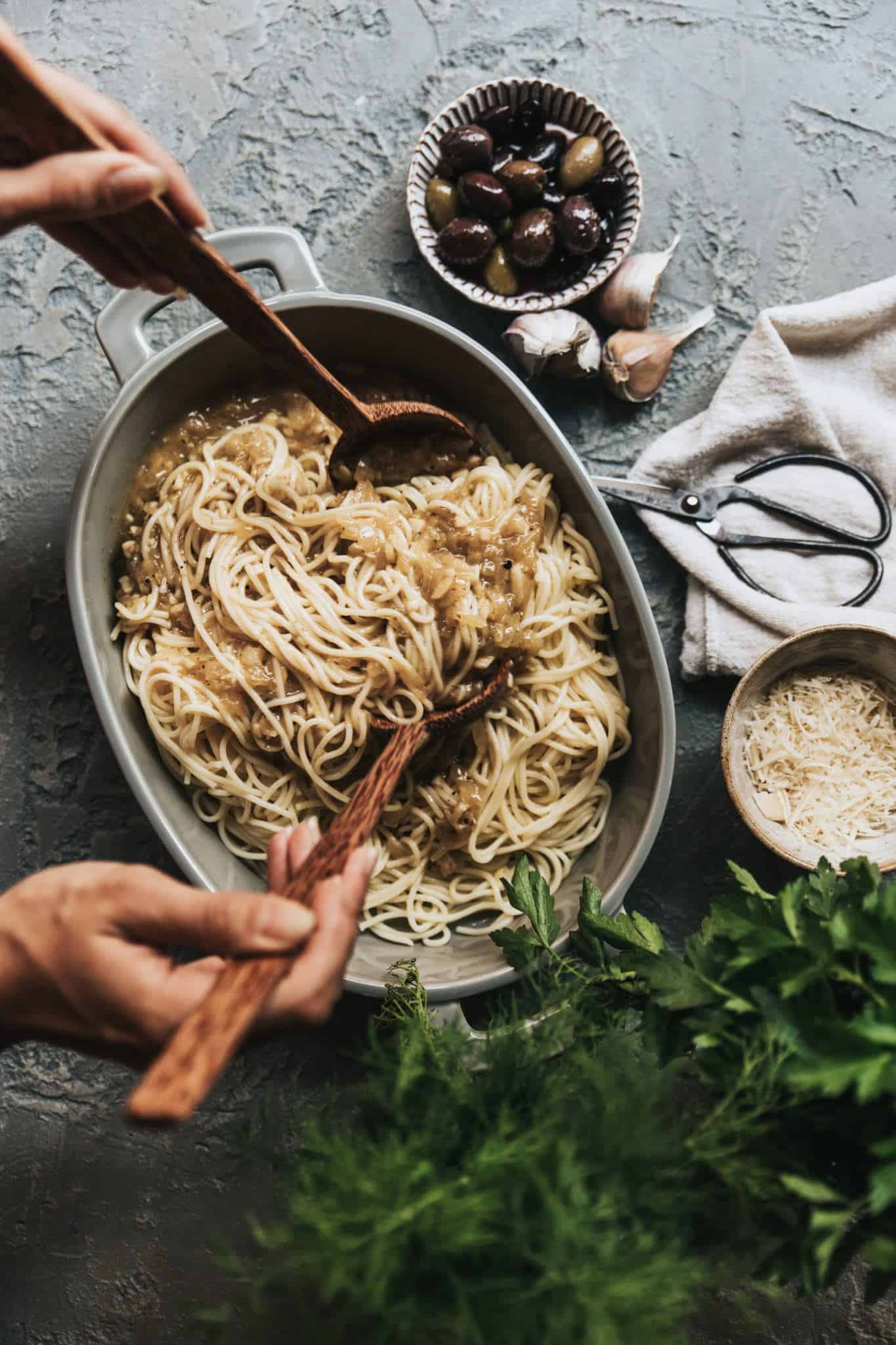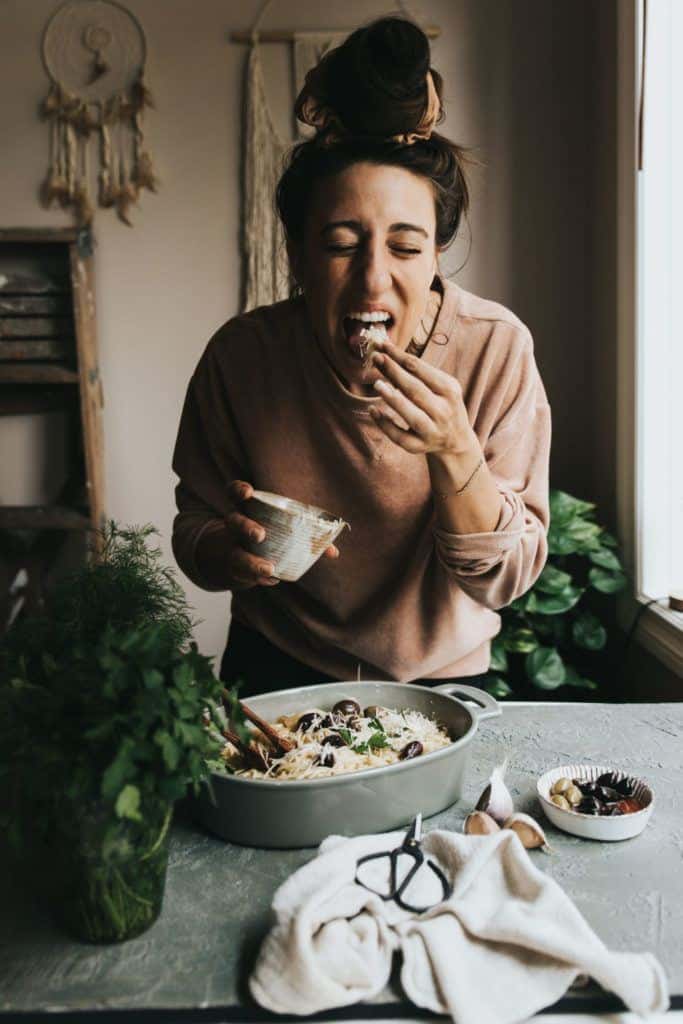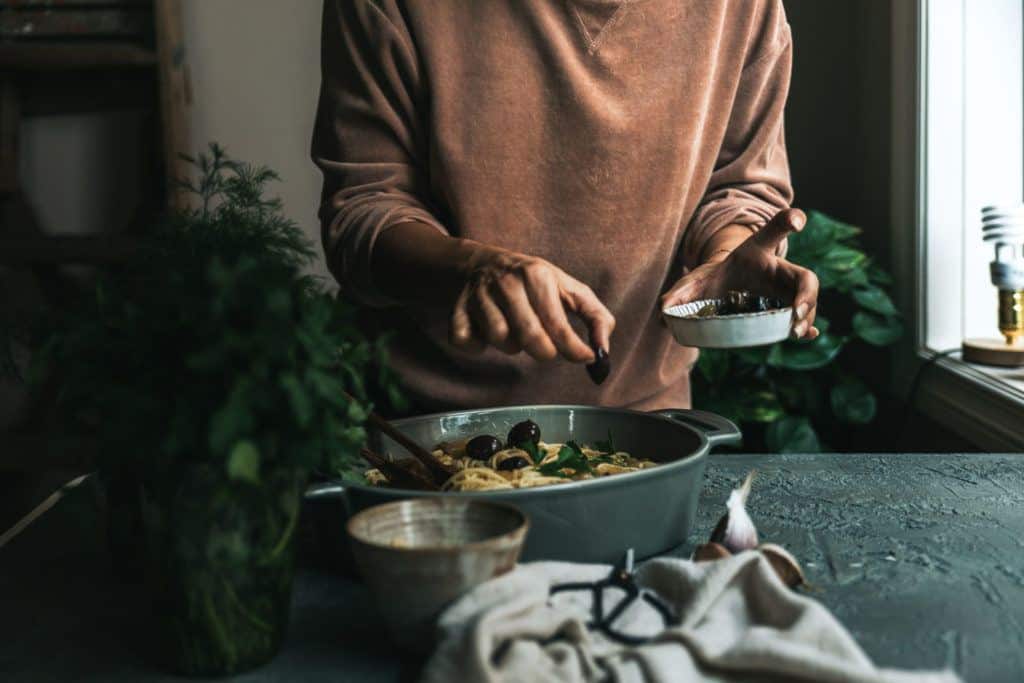 Flavourful truffle oil
If you don't love vegan truffle oil than I'm unsure if we can be friends. Seriously, this oil adds a lot to a recipe. Truffle oil adds a lot of punch with its flavour and aroma. Truffles aren't that chocolatey goodness you're thinking of, it's a type of fungi. It's famous for being used in dishes to add flavour, and also famous for having a higher end price tag dependent on how a chef incorporates it into the dish. However, truffle oil itself isn't actually made with real truffles. Yes, you heard me correctly. Most truffle oils you'll buy in a store are made by mixing oil with one or more compounds like 2,4-dithiapentane that have been created in a laboratory.
Did you know truffle oil isn't actually made with truffles?
Sounds weird doesn't it? However, it adds a lot to the flavour of the dish and I personally love using it throughout different recipes.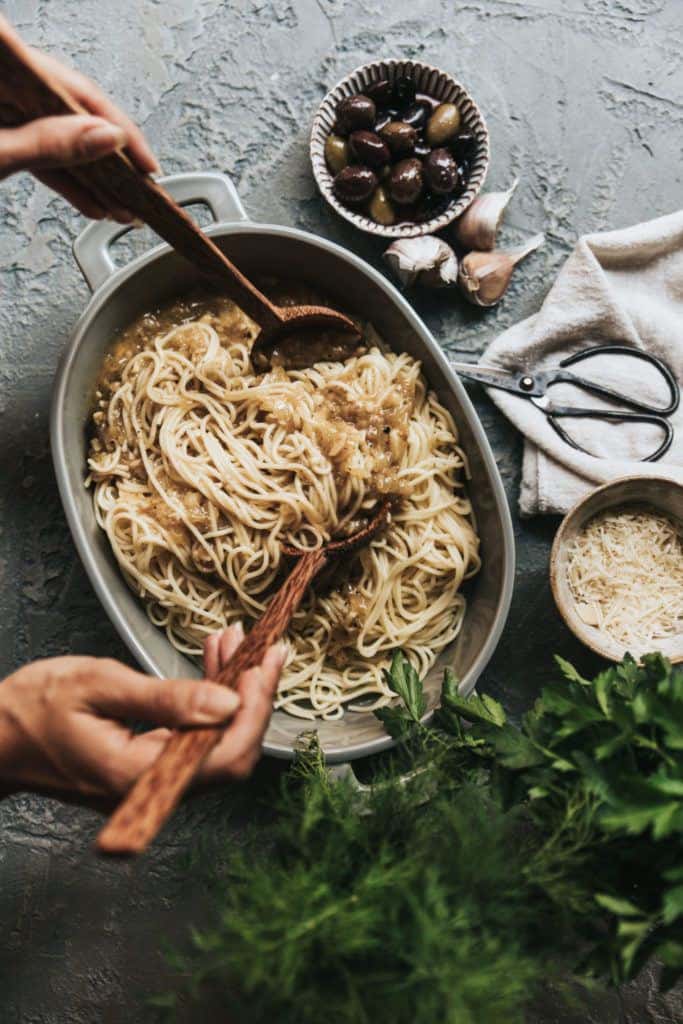 A favourite for vegans: nutritional yeast
Lastly, let's talk about one other ingredient in this recipe that you know is one of my favs, nutritional yeast. I used Bob's Red Mill for this recipe because I always have it on hand. What's great about nutritional yeast is that it gives off this great cheesy flavour without needing the cheese. It is loaded with vitamin B12 too, so it's healthy. I love sprinkling nutritional yeast on just about everything. It can even be good on snacks like popcorn, or you can throw it into salads, juice, cereal, and the list goes on.
I really hope you love this recipe as much as I do, and it brings comfort to your home along with the sweet garlicky aromas.
See the recipe card below for how to make this vegan creamy garlicky pasta recipe. Enjoy!
Print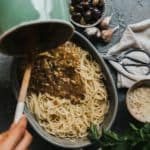 Vegan Creamy Garlicky Truffle Pasta
Author:

Prep Time:

10 minutes

Cook Time:

25 minutes

Total Time:

35 minutes

Yield:

3-4

Category:

Main

Cuisine:

Vegan
---
Ingredients
1/2 a packet of spaghetti
2 tbsp. extra virgin olive oil
2 large white sweet onions, finely chopped
4 -5 cloves of garlic, finely chopped
juice of one lemon
1 1/2 cups of oat milk
1 tbsp. vegetable stock
season to taste
1 tsp. truffle oil
1 tsp. corn starch + 1/4 water mixture
2 tbsp Bob's Red Mill nutritional yeast
Garnish: parsley, cilantro, olives, vegan parmesan cheese and chilli flakes
---
Instructions
Prepare your pasta by following the instructions on the packet.  Make sure your water is well salted to ensure the best results for this dish!
Into a large pot add your olive oil and heat on medium for 20 seconds before adding your onion and cooking till translucent and caramelized.   This may take up to ten minutes.  Stir often to avoid burning. After your onions are fragrant and soft you can add your garlic and cook for another 5 minutes. Transfer this mixture to a mortar and pestle and grind till a fragrant, delicious paste develops – see photo in blog for reference.
Transfer this mixture back into the pot.  Turn heat to medium and add the juice of 1 lemon or so to deglaze.  Scraping the base of the pot for optimum flavour.  Increase heat to high, add your oat milk and veg stock bring mixture to a boil. Once boiling, bring to a simmer, season to taste, add your truffle oil and corn starch mixture.
NOTE: add your corn starch and water into a small cup, stir well before adding to pasta sauce.
Cook down for around 5 minutes and stir often.  You should start to see a beautiful, creamy, rich sauce developing.
Give it a taste for seasoning before adding to your pasta and garnishing with olives, fresh herbs, chilli flakes, nutritional yeast and your favourite vegan parmesan.
Enjoy!