09 Jul

Plant Based Summer Moussaka

I'm sure all of you have already heard that I come from Greek heritage and I absolutely adore creating dishes that take me back to the Mediterranean coast, where the people are some of the friendliest you'll meet, and the views are spectacular. My Summertime Vegan Moussaka is no different. A new plant based twist on the traditional dish, this fresh, light, and airy creation is deconstructed exactly to your liking. Whether you want beefy tomatoes, soft eggplant, or crunchy potato, or all of it, the dish is perfect for picky children, husbands with a "limited pallet", and it's even perfect for meal prep.
Flashback to Jerusalem
Place your self on a patio over-looking the city of Jerusalem. That was my environment, when I was inspired to create this dish. Lead in a slow-food class by chef Nadav Malin, we were taught to cook in a conscious mind-set and with awareness of our senses. I was transported back to Greece, as we thoughtfully steamed the vegetables, simmered the sauce, and thickened the bechamel.
My plant based rendition has been seasonly adjusted from the rich and creamy, comforting recipe (found here) to something that is intended to be eaten on a warm summer day, with a glass of crisp white wine, or lemonade. I moved away from the traditional casserole dish in order to please every single one of your guests' tastes buds. In this manner, everyone is able to pile up their moussaka however they so please. I, of course, am not shy of piling my plate with every nutritious, vegan ingredient included in the recipe, so I suggest to you to try the same.
Loaded with nutrients
The eggplant in this vegan moussaka is an excellent source of Manganese, Folate, Potassium, Vitamin K, and, Vitamin C. Manganese is great for bone health, and is an antioxidant which help reduce the risk of disease. Folate is needed to make red and white blood cells in the bone marrow, convert carbohydrates into energy. Vitamin K and C are also loaded with benefits that help keep your body healthy. Making this an excellent and healthy addition to your summer recipes or to meal prep for your week for lunches or dinner.
How to find a quality olive oil
I highly suggest utilizing a top quality olive oil in the creation of the lentil 'meat' sauce. When you consider quality in terms of oil in your cooking, the health benefits can be copious. "The fatty acid in olive oil is a monounsaturated fat called oleic acid, making up 73% of the total oil content. Studies suggest that oleic acid reduces inflammation! Monounsaturated fats like this olive oil can withstand high heat without turning bitter or overpowering the dish – it is also amazing as a finishing oil. Bonus! Olive oil also contains high levels of Vitamin E and K. This sauce is made absolutely perfect with a smidge of cinnamon and cloves, along with other herbs, and a touch of coconut sugar to complete a smooth, yet hearty vegan base to this delicious plant based summer recipe.
If you are feeling a bit more adventurous, and crave adding this moussaka to another dish, it pairs well over top of a Greek salad. But my absolute favourite finishing touch to this plant based summer recipe is my vegan feta, made with tofu. Who said you can't find a great, flavourful vegan alternative to feta? This Greek girl sure has and you can trust me, you'll become obsessed.
Print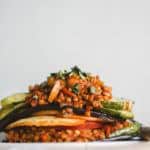 Plant Based Summer Moussaka
Author:

Prep Time:

20 minutes

Cook Time:

40 minutes

Total Time:

1 hour

Yield:

5-6

Category:

Main Dishes

Cuisine:

Vegan
---
Ingredients
For the Vegetables:
3 large white russet potatoes, peeled and cut into 1/2-1/4 inch slices
1 large eggplant, cut into 1/2- 1/4 inch slices
2 large zucchini, cut into 1/2-1/4 inch slices
4-5 tbsp, olive oil
season to taste
2 tbsp dry oregano
For the Lentil Meat Sauce:
3 tbsp. olive oil
1 large white onion, finely chopped
3 cloves of garlic, finely chopped
2 bay leafs
Season to taste
2 tbsp. dry basil
1 tbsp. dry oregano
1 tsp vegetable stock paste
1/2 tsp cinnamon
1/4 tsp cloves
2 400ml can of brown lentils, strained and drained
1 400ml can of black beans, strained and drained
600 ml crushed Roma tomatoes
1 tbsp. Coconut sugar or white sugar is fine too
To assemble:
Sliced fresh tomato
---
Instructions
Preheat your oven to 400F and line three baking sheets with parchment paper.
Cut your peeled potatoes, zucchini and eggplant and evenly coat with olive oil, seasoning and oregano. Cook potatoes till soft, eggplant till tender and golden brown and zucchini till most of it's liquid has evaporated (around 25-30 minutes). The reason we're pre cooking them is so there is no moisture in the baking dish for the moussaka. You want this to be a mix of perfectly crispy and creamy, not watery!
To prepare your "meat" sauce all you will need in one deep pot. Start by pre-heating your olive oil and adding your onions. Cook them down on medium-low heat for around 5 minutes or until soft. Add in your garlic, salt + pepper, basil, oregano, stock paste, cinnamon and cloves and give your mixture a good stir. Cook for 3 or so more minute on medium-low heat. At this point your home should smell fabulous. Add in your lentils, black bean, tomatoes and sugar. Give it all a good stir before turning heat to low and popping on a lid and reducing for around 20 minutes. You want the sauce to reduce enough that it's thick but not stew like! Once cooked set aside.
To assemble, place a layer on potatoes on to a plate, then some zucchini, eggplant, lentil meat sauce,  fresh tomato and repeat one more time.  Garnish with fresh parsley and your choice of fixings.  I love eating this with feta and tzatziki.
---
Notes
Any leftover "meat sauce" will last up to one week, in the fridge, in a tight sealed container.
See the recipe card below for how to make my Vegan Summer Moussaka. Enjoy!